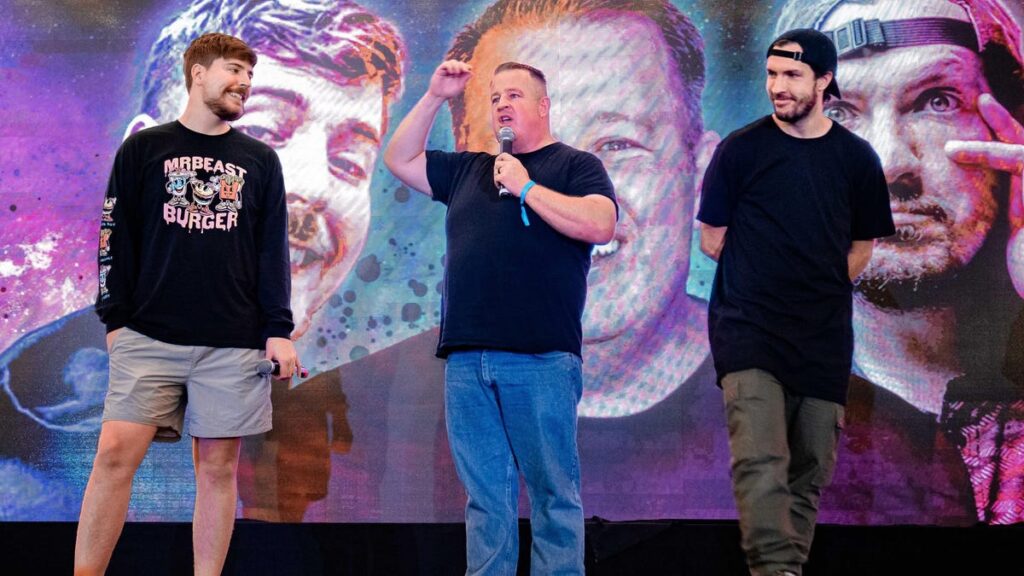 5 Things I Learned From The World's Top Creators At VidSummit
As the creator economy becomes more mainstream, more people are looking for ways to turn their passions into professions. At VidSummit, creators have been learning how to do exactly that for the past 8 years.
It's a creator conference where Mr.Beast shares his behind-the-scenes process, Graham Stephan gets candid about how to make money as a creator, and Nas Daily (Nusier Yassin) breaks down how to expand your reach internationally.
I had a chance to speak at this year's event and wanted to share my biggest learnings, especially as 52% of Gen Z now say "YouTuber" or "Vlogger" are their top career choices.
In many ways, VidSummit feels like TED crossed with an intimate dinner party. "You're surrounded by creators," VidSummit founder Derral Eves explained. "You might have some fans, but they respect you – in a way that they'll approach you just like a normal person would, and not like a fanboy or fangirl."
Or as Hayden Hillier-Smith, Logan Paul's editor, put it: "I love how equal it is, despite a public hierarchy in everyone's follower count. There's a fantastic social equality. If you make good content, you can talk to anyone."
Below are the top five lessons I learned from five top creators that can hopefully help your creator journey as we head into the new year:
1) "Slow Down The Creator Treadmill" – Mark Rober
"It's like a treadmill," Mark Rober said in explaining how he grew his channel past 20 million subscribers. "You could go at a sprinting pace – do the book, the podcast, launch the merch line, go on tour, and hire 20 people. You can do that for a little bit in the same way that you can sprint for a little bit. But what inevitably happens is that the dopamine hit of that wears off, and you're still sprinting on this treadmill."
Rober's strategy has been working. His videos have over 2 billion views and he's been uploading once-a-month consistently for 10 years – all while having a full-time job at NASA and Apple for most of that time. His videos range from creating the world's largest elephant toothpaste volcano to building elaborate squirrel mazes to now fundraising $30M to clean our oceans as part of his #TeamSeas campaign with Mr. Beast.
"I just put all my effort into it," he told me. "I think there's something that comes from just laser-focusing on a thing. You don't spread yourself thin. [Am I better off] if I split an idea into four videos that each gets a million views, or if I just put that in one video, that [can get] 20 million views? I just have these concentrated nuggets of coolness that I try to put out every month."
2) "Translate Your Existing Videos" – Nusier Yassin
Yassin is the star behind "Nas Daily" – where he uploaded a video every day on Facebook for 1,000 days. But then he diversified. "What's happening is most social media platforms are becoming pretty similar," he told me candidly. "So it's becoming much, much easier to become multi-platform."
While most creators focus on uploading new videos, they forget about the value of their existing catalog. Yassin is the exception. He has 44 channels (!) that provide content in approximately 13 languages. Yassin told me outright: "I never translated in the first 1000 days." But now he has a system: "We basically take content, we auto-transcribe it, auto-translate it, and we get a human to fix the mistakes on an auto-upload. So we built our own software to take the process from one hour to 10 minutes to localize a piece of content." Bottom line, reach out and make your creations widely available.
Moreover, Yassin talked about the importance of re-packaging your existing videos from one social media platform to another. "I think you should consider every social media platform where humans are," Yassin said. "One of my mistakes is that I avoided YouTube for four years. But eventually I came to realize that you should put your content where humans are. YouTube has 2 billion humans. Put your content there. Facebook has 3 billion. Put it there. Instagram, 1 billion. Put it there."
3) "Use The Words 'In Exchange For' Instead of 'For Free'" – Dear Alyne
Alyne Tamir, also known as "Dear Alyne," has three million followers and has made videos about topics she felt were missing on social media, such as women's issues, lesser known countries, vegetarianism, and more. In her words, she's all about "teaching you what Google can't."
Her approach to business is just as creative as her approach to content. She explained how it's possible to monetize even if you're just trying out as a creator. How? "provide value," Tamir told me. "You need to look at your skill set, and look at what [they need], and offer an exchange."
Tamir didn't start as a creator. "I worked for a travel agency," she said. "I used to do blog posts about creators. And it wasn't a video, but I'm offering them, 'Hey, I'm going to make you a beautiful blog post – that I will put my heart and soul into: amazing pictures, graphics, backlinks…' And then people are way more likely to say yes."
In short, even with no followers, you can do incredible things – like travel the world and stay for free in boutique hotels – as long as you're willing to offer them something that they don't have. Tamir provided a great example by suggesting new creators approach brands with the following value exchange: "Hey I'm going to make a 30-second advertisement video for you…I know how to shoot and cut up better than you can. So if you let me stay for four days for free – don't say 'for free,' actually, say 'in exchange' – I would love to provide you the service and I would love your honest testimonial at the end. Right? So now you're not only getting four days for free, you're leaving with a proof of concept that you can show to future hotels and include in your proposal email."
4) "Have A Clear Value Prop For Your Channel" – Matthew Patrick
YouTuber Matthew Patrick, also known as MatPat, has a background in both neuroscience and theatre which he's used to grow three YouTube channels (Game Theory, Film Theory and Food Theory) to over 28 million subscribers total.
MatPat told me he started the Game Theory channel because he "recognized that there was a gap in the marketplace, about educating through gaming." So MatPat asked himself: "Why isn't there a show that streamlines it all down and makes it fun for you to watch?' As someone who is a big fan of these games and is a big fan of learning, this would really speak to me. It felt kind of like Mythbusters for gaming."
When launching his Game Theory channel over 10 years ago, he made a trailer where he not only addressed this gap in the market but gave viewers a clear reason why they should subscribe. MatPat has replicated that formula with Film Theory and Food Theory; each channel has its own value proposition, launched with several episodes so viewers knew what to expect, and skyrocketed with subscribers.
Now, he's even trying to step out of YouTube and hopes to become the next Jeopardy! host (sign the petition to help him) – but MatPat's bottom line is that you need to have a broad base of knowledge, a specific focus, make a promise to your subscribers, and then follow through.
5) "You're Never Too Old To Get Started" – Jordan Matter
Jordan Matter has almost 8 million subscribers on YouTube and 4.1M followers on TikTok. But what's even more impressive is that he's doing it all at 54 years young. So how does he do it?
"My energy is young," Matter told me. "So I think I tap in with that." Matter started off as a photographer. He started giving himself challenges where he'd pick a public spot (like New York's Penn Station) and run around for ten minutes to get as many cool photos as possible. He'd involve everyone, from police officers to random passers-by. One of his most popular 10 minute challenges features Charli D'Amelio and it's racked up over 27 million views and counting.
Matter is also a master of collaborations. "My whole channel is built on collaborations," Matter told me. "That's part because I love being with people." To date, his collabs have ranged from the likes of D'Amelio, Loren Gray, and the stars of Dance Moms.
That said, it's not like every creator answers his messages to do a video together. "My job is getting ghosted," Matter says. "You're going to get ghosted most of the time." So be persistent, but, in Matter's words, "don't be annoying." Matter told me, "I often even give them an out: 'Look, if you don't like this idea, we're good. You don't have to respond. But if you like it, I'd love to do this. And this is about how much time it would take – and be really sick." This high value, low pressure outreach has worked wonders for Matter and could for you as well.
Those were just five of the many insights shared at VidSummit. Eves said he started VidSummit to "rub shoulders with the world's top creators. I wanted to learn from them. I wanted to engage with them." Now, eight years later, anyone has a chance to do the same and further their career as a creator as it becomes more and more possible to turn your passion into a profession.