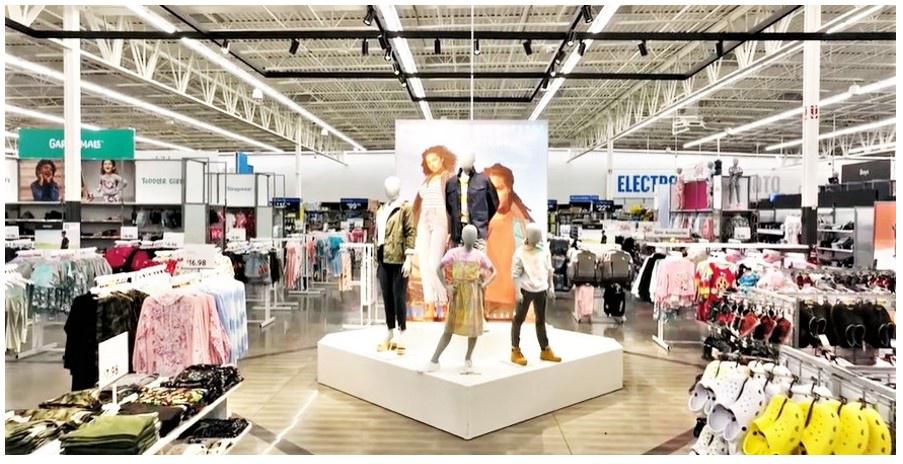 Walmart's New Store Design Sends Another Department Store 'Wake-Up' Call
We seem to be living in a topsy-turvy state of retailing right now. Corporate raiders are swarming over once glamourous or at least vital, undervalued flailing department stores, looking to extract equity or part them out. Meanwhile the once "stack 'em high and watch 'em fly" discounters are getting attention for their dynamic design moves and upping the customer experience.
Target made headlines back in 2017 when it introduced the "reimagined Target", a key part of its $7 billion, 3-year initiative, to take the entire customer experience to the next level. Now all indications are that even as Target and Walmart have steadily siphoned off market share from department stores, J.C. Penney, Kohl's and Macy's, Walmart is preparing to up the ante, even more.
Getting To the Next Level
Last week two media outlets, Retail Dive and Fast Company gave us a peak at Walmart's second prototype redesign or test store, in as many years. The first, revealed in 2020, focused on vastly improved wayfinding and signage, along with integrating the online and offline experience. This was further amplification of the influence that unified commerce is having on the "path-to-purchase." That store prototype effort was significant enough to warrant recognition as a design finalist in the 50th Retail Design Institute's "Store of the Year" awards, which were announced in October.
Now, two years later, Walmart has revealed the second phase of their store redesign in their Springdale, AR (store 4108) "incubator store" prototype which the media is referring to as Target-like. I see it more as Target light. While they have clearly taken cues from Target's now five-year old design, it still has many of the earmarks of a Walmart, which is not bad.
Merchandising like Merchandisers
Target constantly earns high marks for being a premier visual merchandiser which is in their DNA, as they evolved from the venerable Minneapolis based Dayton's Department Stores. Walmart is just now "contemplating the addition of a visual merchandising team" according to the Fast Company article. This will be essential if they intend on rolling out this prototype, as one of its best design attributes is the implementation of product vignettes around the store.
These "nodes" skillfully cross-sell products from a given category and provides the type of "storytelling" that's right out of the old department store manuals, long lost by many of the department stores. Their implementation engages the customer, and begins to focus on lifestyle and context, what I refer to as solution based, rather than product-based selling. It puts the customer in the "if I need this, I may also want this" mode.
QR Codes and Monitors Aplenty
Clearly the new Walmart store is utilizing plenty of technology to both engage and empower the customer. A new men's grooming section, like what Target introduced, features a bank of interactive screens that respond to the customer's presence and begins to demonstrate features and benefits of the immediately adjacent product.
Additionally, because most customers shop the store with smartphone in hand, Walmart has smartly integrated QR codes throughout. They serve multiple purposes from helping customers with top-line information about a brand or product, to the more valuable "endless aisle" function. This enables the customer to shop a far broader selection, beyond what is on the shelves, exercising the best of what "unified commerce" has to offer.
Still Walmart
There are other clear distinctions between the Target prototype and the Walmart test, beyond the obvious, that whatever is red at Target, is blue at Walmart. Target has a near-decade head start in terms of prototyping, and near complete store rollout of its signature Target 2.0 design program. Also, Target's finishes and overall store design aesthetic skews a bit higher end than Walmart, and quite intentionally so.
Target lowers and finishes their ceilings, as well as introduces contrasting floor finishes to help define product areas. In contrast, Walmart's design maintains a more industrial, warehouse-like exposed ceiling structure and polished concrete floors. I don't fault them for it. Both retailers utilize state of the art LED lighting for ambient, general illumination and product highlighting. But one retailer chose from the "better" column, the other from the "best."
But, besides the money it will save Walmart in the renovations, it keeps the brands remaining in their "own lanes." Alvis Washington, VP of marketing, store design, and innovation and experience at Walmart told Fast Company "We don't want to try to be upscale, that's not what we're trying to do . . . [we want] to offer an elevated experience the Walmart way." Mission accomplished.