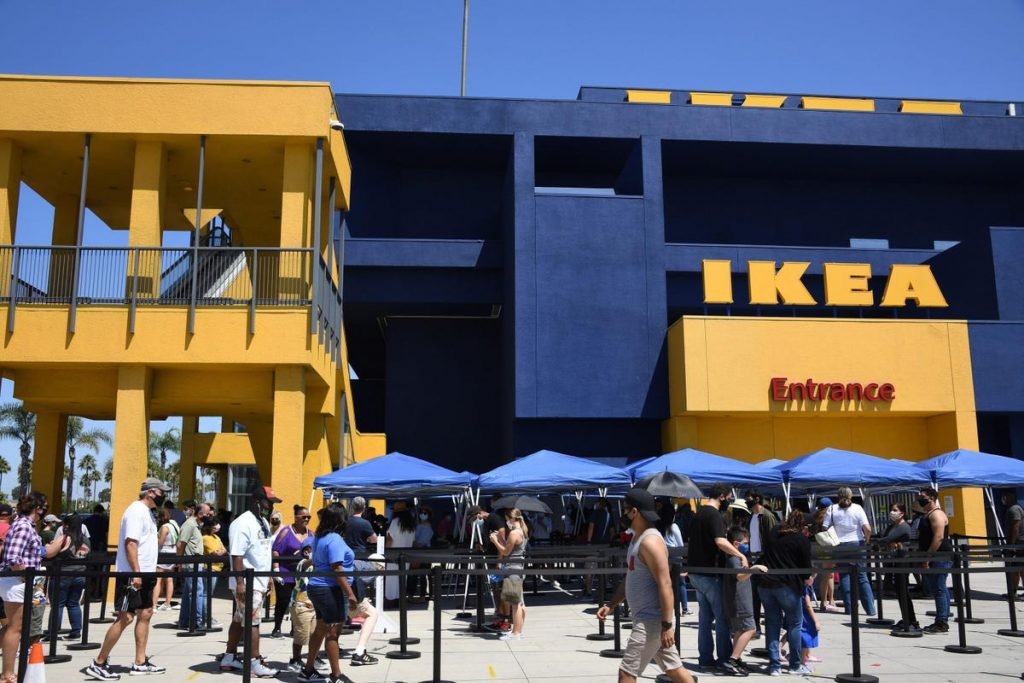 IKEA's Ingka Group Is Giving A $128 Million Bonus To Employees For Their Efforts During The Pandemic
Shopping at an Ikea superstore is a surreal experience. The first thing you notice is that it's gigantic. You can spend all day marveling at the unique furniture, getting lost, and munching on tasty Swedish meatballs.
Now, imagine if overnight, hundreds of locations were forced to shut down. The pandemic made the Ingka Group, the largest franchise of Ikea, with nearly 400 locations in 32 markets around the world, scramble and figure out what to do.
Revenues plummeted. The company, along with the world, was beset with worries about what will happen next. Within weeks, the 170,000 employees were redeployed, and up and running.
Management did not fire or furlough most of the staff as other companies did in the U.S. In addition to maintaining their pay, the company continued to provide for their healthcare and pensions. They upskilled and re-trained workers to pivot from their jobs at brick-and-mortar stores to online related roles. Cashiers became customer success reps, many moved to warehouse and fulfillment centers as customers went online. In a fortuitous turn of events, as everyone was locked down and worked from home, there was a continued demand for their furniture products. Online sales nearly doubled, from 18% percent to 30%.
To reward its employees for their efforts, devotion and dedication, the company is providing a €110 million gift to them, as a show of uppskatta, the Swedish word for appreciation.
In an interview with Ulrika Biesèrt, People & Culture manager at IKEA Retail (Ingka Group), she said "Since the early stage of the pandemic, we have strived to support our co-workers in a professional and caring manner, in line with our values and humanistic approach, and this is another step in that direction." Biesèrt proudly says that the Ingka Group has overcome incredible challenges, shown how adaptable it could be, and how performance driven it is.
"We could not have done this without the courage, dedication, and entrepreneurship of our co-workers – including those in the physical stores who helped deliver to our ambition to make life at home better for millions of people, when they needed it most," the head of HR added.
The gift is in addition to the existing rewards packages Ingka Group offers. These include an annual 'One IKEA' bonus based on company and unit performance, as well as a one-time pension contribution through the company's "Tack" loyalty program for co-workers employed for a minimum of five years.
Biesèrt said that the Covid-19 pandemic had stress-tested the company's culture. "Looking back on our most recent year, I think it's fair to say it was our most challenging, but a successful one," and "I truly think we were able to achieve this type of performance because we ground our work in our vision and values, striving to take responsibility and take care of people."
She highlighted the company's commitment at the start of the pandemic to ensure income stability for co-workers and to safeguard basics such as medical insurance and pensions. "All of this created room for business and people to adapt to the new situation and to create a better sense of safety among co-workers."
The company, in light of the tough times, has laid out other employee-empowerment policies and programs. They are fashioning a "meaningful workplace that's purpose-led." She said, "I'm happy to say that half of our managers are women and that we have made a commitment to increase ethnic, racial and national diversity at all levels of leadership in 30 countries by 2024."
Biesèrt emphasized that Ingka Group takes the long-term perspective, thinking for generations to come in all it is doing. To achieve this goal, the Ingka Group has an ambition to have a 50/50 gender balance across all levels and positions, including boards and committees, by the end of 2022. There is also a long tradition of supporting LGBT+ rights and fostering a culture where everyone feels safe to be themselves.
"When we step back and take a look at the bigger picture, the massive impact of Covid, plus demographic shifts, growing inequality, political instability and climate change underlines more than ever that companies stand up and take responsibility," the people and culture officer said.
Like all companies, Ingka Group is transforming itself with digitalization, automation, a platform economy, diversifying workforce models. "These changes mean that life-long learning and innovation are prerequisites, and our future needs are about unlocking skills and driving growth."
This includes a continual commitment to upskilling and reskilling workers. The program will serve to strengthen a worker's long-term employability and accelerate the creation of new jobs.