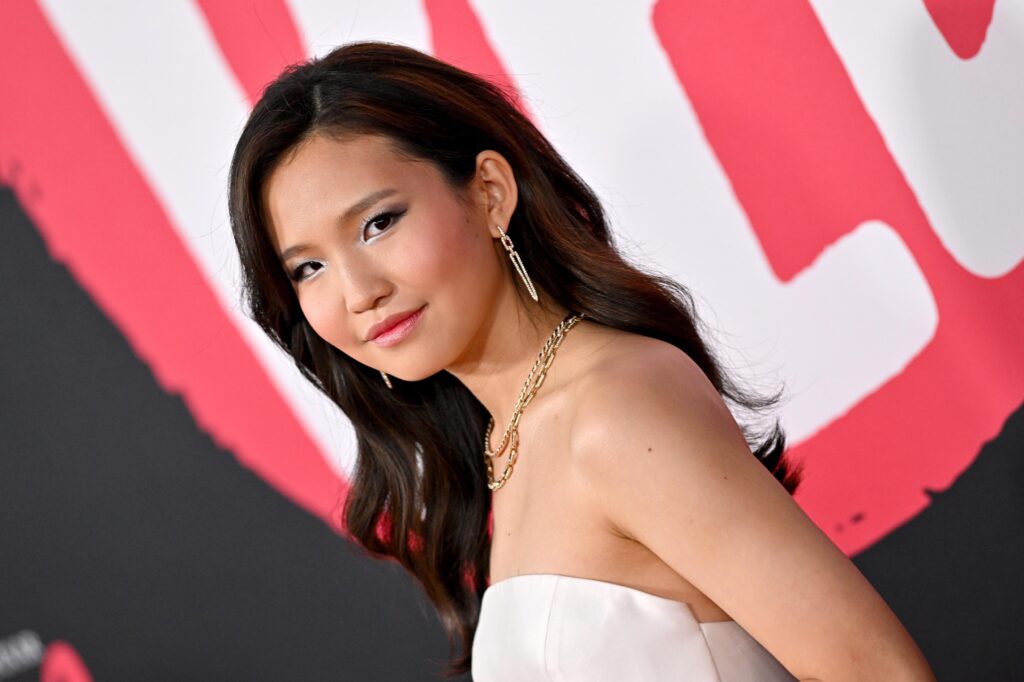 Rosalie Chiang Of 'Turning Red' Shares Her Pixar Experience And Her Favorite Boy Band
Pixar's latest hit Turning Red has been a worldwide phenomenon since debuting on Disney+ on March 11, on digital on April 26 and on 4K, Blue-ray and DVD on May 3. The movie stars newcomer Rosalie Chiang as the voice of Meilin "Mei-Mei" Lee, an ambitious and lovable 13-year-old who just happens to turn into a giant red panda when she gets too excited.
Throughout the film Mei is torn between pleasing her somewhat overbearing mother, Ming, voiced by Sandra Oh, and living the life of an average teen who has secret diaries and loves boy bands. During a chat with Chiang, I got to dive deeper into Mei's character and learn Chiang's favorite boy band.
This interview has been edited for time and clarity.
Megan duBois: Rosalie, I'm really excited to be talking to you about your role in Turning Red today. Can you take me through what it was like to voice Mei who is the main character in the film?
Rosalie Chiang: Voicing Mei was such a huge honor because I was at that age when I started recording for her. Part of the reason why I didn't realize how big of a deal it was is because I did know it was Pixar, but I just thought it was for a short or something. And then when I got into the booth and Domee (Shi), the director explained to me, this is a new feature film and it's going to have an Asian lead and I was just shocked. I'm like, wow, so this is kind of new frontier for Pixar. Voicing her and going through all the different developments in her character throughout the four years I record for her was so cool.
duBois: I saw that you were between 12 and 16 when you are doing the voice recording is that correct?
Chiang: Yes, I started when I was 12. And then actually, my last recording session was on my 16th birthday.
duBois: Can you talk about how voicing Mei changed as you changed and kind of grew up in this time where Mei is also growing up?
Chiang: I'd say the fact that her character has gone through so many changes, yet I feel like she still stayed the same from when I first started and that she was still this kind of confident girl but in the sense that I felt like she did mature throughout the making of this film. And I think for me personally recording her, I first started with my normal voice but as I got older, I realized that my voice got like a pitch lower. So I had to adapt from that by say, pitching my voice a few notes higher. And just the fact that that's just she's such an interesting character in that she also has the sort of red panda Alter Ego. But Domee again, did such a good job at giving me a clear path to follow.
duBois: Can you talk about what it's like being an Asian American and then knowing that Mei was going to be Pixar's first animated Asian lead for a film how exciting that was for you?
Chiang: When it first hit me that Pixar was doing an Asian lead and Mei was gonna be the first Asian lead of a Pixar film I was definitely intimidated that this is sort of breaking new ground. But at the same time I just sort of thought about all the other pioneers, such as Sandra Oh, who was one of the few Asian actors in Hollywood that I knew. I think Pixar does such a good job at giving different perspectives such as toys, the emotion minds, and now this is the perspective of an Asian girl going through puberty. For a movie that other Asian girls relate to is a huge honor.
duBois: Are there any similarities between you and may that you noticed while you were in the booth recording or after the film was done and you're watching it with your family, specifically, focusing on the relationship between me and her mom and you and your parents?
Chiang: Mei and I are so different, yet so similar. She fights for what she believes in and not something that I was taught to do. My parents taught me to I should never back down without a fight. Mei is really confident. And with me, I start of put on an act that I'm really confident in myself but in reality, I do have a lot of insecurities. And that's something I sort of look up to Mei in that aspect. But in regards to a relationship with a mom, it's definitely different and that Mei is is this perfect girl and she wants to be perfect for her mother and she wants to make her proud in that aspect. But with me and my mother, I'd say I'm more of a rebel in that I don't try to be perfect for my mom. I think my mom and I kind of acknowledge the fact that we're both very opinionated people and we have different opinions, so we end up clashing. But I think that sort of embodies Mei in the latter half of the movie where she starts to pile up her own ideas and feelings and realizing it doesn't align with her mom, but at the same time, she wants to maintain that relationship with her mother just as I'm trying to do with my mom.
duBois: A big part of the film is Mays love of the boy band for town. Who is your favorite boy band now right now?
Chiang: I am a big Kpop fan, so right now it's groups like 17, BTS, EXO, NCT, but there's also a lot of girl bands I like as well, like BlackPink, Twice, Dreamcatcher, STAYC. I can go on and on.
duBois: One of the things that we're really excited about is all of the deleted scenes that didn't make the film but you actually ended up doing the voiceover and Pixar started to animate. What's the scene that you're most excited for fans to see that wasn't in the original motion picture?
Chiang: I think my favorite scene would probably be the intro with Mei and Ming is definitely one of my favorites. It sort of embodies the relationship between Ming and Mei without saying too many words. That was actually the first scratch screening I saw where it was just a bunch of storyboards and to see it actually animated was so interesting.
duBois: Can you talk a little bit about what it was like to work with Pixar and anything else that you are working on coming up that you can talk about?
Chiang: Working with Pixar is just such a huge honor. My callback actually took place at the studio itself and I remember the gates opening the angel started singing. The people at Pixar you can tell they're just happy to be there. And everyone's so warm and loving and kind. Pixar the campus is so big and spacious. It's everything you would imagine Pixar Studios to be not like an office, not like regular job, but sort of this just this magical place.