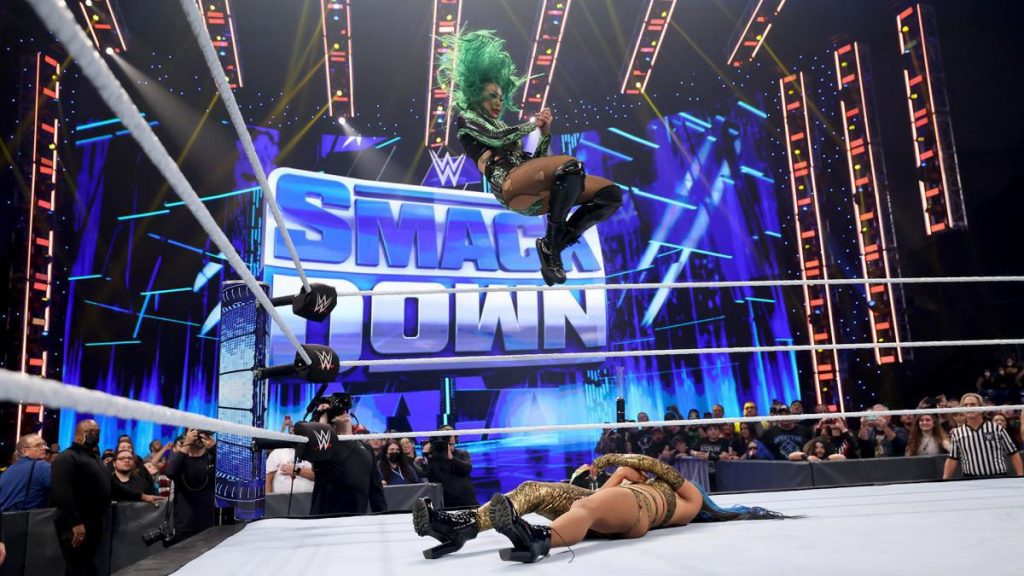 WWE Vs. AEW Ratings: SmackDown Over 1 Million On FS1, Rampage Up 17%
WWE and AEW saw big increases for SmackDown on FS1 and Rampage, respectively.
SmackDown on FS1 drew a total viewership of 1,032,000 per Brandon Thurston of Wrestlenomics. While this number is down 54% from last week's Fox broadcast, it is up 19% from its previous airing on FS1 on October 15, 2021. SmackDown on FS1 drew a 0.29 rating in the 18-49 demographic, up 20% from the October 15 FS1 broadcast.
Rampage garnered 623,000 viewers, up 17% from last week. Rampage hauled in a .25 rating in 18-49, up 14% from last week. SmackDown ranked No. 3 in the Cable Top 150, while Rampage came in at No. 4 in the category.
SmackDown was preempted to FS1 due to the World Series, which set the stage for a much closer Friday Night War with SmackDown airing on a much smaller network. The preemption also gave way to yet another counterprogramming effort by WWE as FS1 aired a replay of SmackDown to go head-to-head with Rampage.
SmackDown was without top stars Roman Reigns and Brock Lesnar, and little was advertised in advance. Rampage featured the continuation of the AEW World Title Eliminator with a very good match between Bryan Danielson and Eddie Kingston. Rampage's main event pitted Abadon against AEW women's world champion Britt Baker in a Trick or Treat No Disqualification Match.
WWE SmackDown on FS1 vs. AEW Rampage | October 29, 2021
WWE SmackDown Total Viewership—1,032,000
WWE SmackDown 18-49 Viewership—373,000 (0.29 rating)
AEW Rampage Total Viewership—623,000
AEW Rampage 18-49 Viewership—320,000 (0.25 rating)
Last time WWE countered AEW Rampage by going head-to-head on FS1, SmackDown won the total viewership battle while Rampage was in lockstep the FS1 show in the 18-49 demographic. In fact, the two shows were nearly identical in the 18-49 demo overall, with SmackDown garnering 314,000 18-49 viewers to Rampage's 313,000. In the 30 minutes a commercial-free SmackDown went head-to-head with AEW Rampage, Rampage toppled SmackDown on FS1 328,000 to 285,000.
Further analysis revealed SmackDown and Rampage did not have a significant impact in stealing viewers either way. Per Dave Meltzer of The Wrestling Observer Newsletter, SmackDown cost Rampage 5.1% in overall viewership and 7.7% in 18-49, while AEW had no effect on total viewership for WWE while costing them 3.5% in the 18-49 demo.
SmackDown returns to Fox next week, and with the World Series set to conclude before then, sports competition for both SmackDown and Rampage will lighten up moving forward.