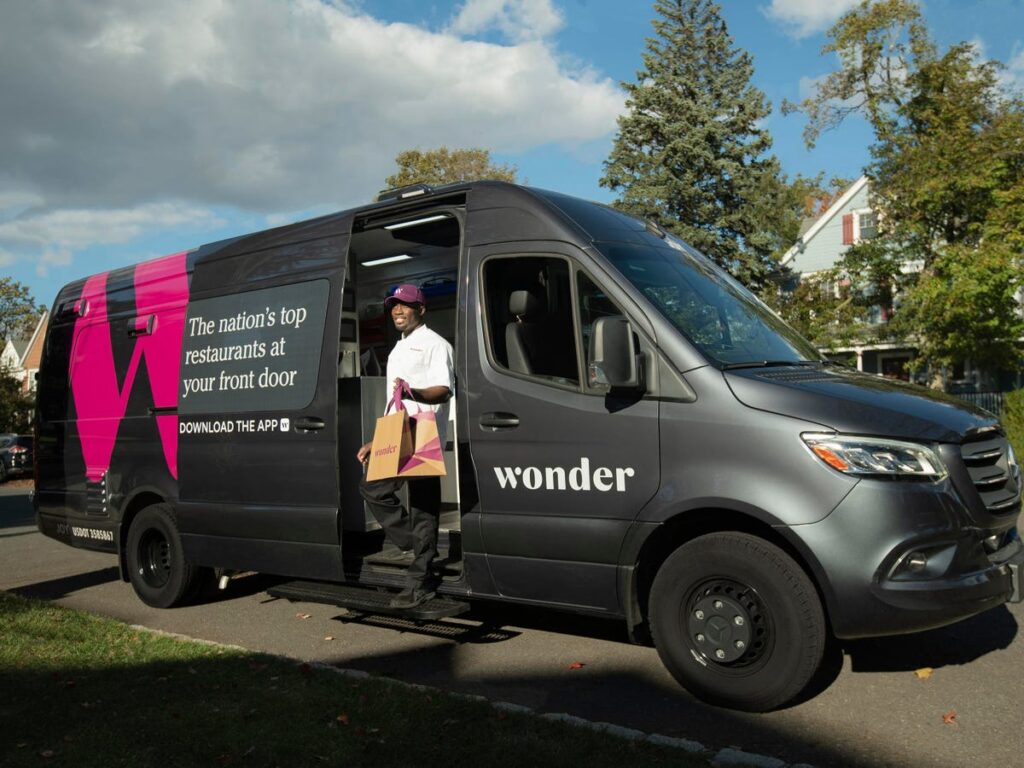 Wonder, Marc Lore's Latest Venture, Delivers Recipes From Top Chefs To Your Front Door Via Mobile Kitchens
Marc Lore wants to inspire Americans to eat better, one palate at a time.
The prolific entrepreneur is taking the reigns of Wonder Group, a new chef-driven approach to home dining, as founder, chairman and CEO. Lore, who sold Jet.com to Walmart Inc. WMT for $3.2 billion in 2016 and joined the retail giant as head of U.S. e-commerce, stepped down as the CEO of the Walmart division in January.
Lore in May announced that he and his brother, Chad were investors in Wonder and that Scott Hilton, another former Walmart US e-commerce executive, is leading the company as CEO. Hilton will remain Wonder's CEO while Lore oversees the entire group, which includes Envoy, a local meal delivery service.
The serial founder told me why he decided to devote all his working time to Wonder Group. "I think we have a real opportunity to change how people eat and create a better future," Lore said about Wonder, which is bringing something unique to the food delivery business with mobile kitchens serving the recipes of top chefs. "We're giving people access to great food with nutritious options in a convenient, affordable and sustainable way."
The Wonder app now features 17 chefs and restaurants, including Bobby Flay Steak and Nancy Silverton's Mozza. Wonder buys the rights to the restaurants' recipes and sets about learning how to cook the signature dishes. They are dispatched from a central commissary to the mobile kitchens manned with a trained chef and fired up outside customers' homes, so every dish consistently tastes just like the original and is delivered piping hot.
Wonder is also developing an exclusive concept with chef Marcus Samuelsson and collaborated with sushi master Daisuke Nakazawa on specialty rolls and Japanese classics. Lore, who refers to chefs and their recipes as "content," said he's in advanced discussions with other top toques.
"We have over 60 R&D chefs," Lore said. "We basically go into the restaurant learn the menu and learn how they cook it, the ingredients they use and bring that back to our R&D kitchen and then work for months to try and recreate that quality with the push of a button in a high speed convection oven."
Lore said sustainability is a big part of the story. The mobile units have fully-electric cooking and in time, the fleet of trucks will be electric too, he said.
Wonder has been in test mode in Westfield, N.J., where demand has been high and there's been a high rate of repeat customers and consumer satisfaction. Lore said over 60% of households placed orders and Net Promoter Scores were in the upper 70s, "which is unprecedented in the food business."
"Next year, we're hitting lots of areas in New Jersey, Connecticut and Westchester," Lore said. "We're adding over 1,000 trucks,@ he said, noting that two-thirds of the U.S. could be ripe for the Wonder mobile meal service. "It's a combination of density and income level, so if you have a low income area that's very sparsely populated, that's not going to work, but if you have high income sparse, and low income dense, that could work."
Fueling Lore's outsize vision will require lots of capital and Wonder has raised venture funding from partners, including NEA, Accel, GV, General Catalyst, and Bain Capital Ventures BCSF . Lore declined to divulge the amount of the raise, but it's believed to be about $500 million.
Wonder doesn't aim to replace restaurant dining; Lore believes consumers still want to eat out, cook for themselves and entertain at home, but he still has big ambitions for the app, even if it's used only once a week. "There's 130 million households in America. Once a week, that's 130 million meals. You're talking about insane numbers. Once a week is enough to create a massive business," Lore said. "We're certainly not looking to people ordering four times a week. That's not going to happen, not in the near future, at least.
"People still want to go out to restaurants once a week or once every few weeks," Lore added. "People are going to enjoy the social setting of dine-in restaurants, but you're eating seven dinners a week and maybe you go to a restaurant, if you're lucky once. Many people don't go out to eat that often in the suburbs, even the wealthy suburbs. You're having to cook most nights or order in. This certainly beats ordering in or picking up and certainly could be a treat on one night you decide to do this rather than cook."
"The ability to have an app to have an access 17 restaurants today, but in the future, 30 or 40 of the most incredible restaurants and chefs around the country is one of the reasons to be excited about this," Lore added. "A fully outfitted van with a kitchen inside pulls up in front of you door and literally cooks the food in a real oven. This is not microwave and not the stuff they use on airplanes. This is a proper industrial kitchen oven that's outside the door, firing up pizza, a steak, chicken, fish, fries, barbecue, anything you want at a affordable prices and in a sustainable way."
Of course, affordable is relative, and Lore didn't offer an exact price range. He said Wonder prices will be commensurate with "anything from a burger from a fast casual burger place and what you'd expect from a pizza restaurant for a Silverton pie, all the way up to Bobby Flay Steak.
In addition, two restaurants offer family-style meals where the dishes are not plated. One is tacos for the family, the other is a chicken dinner with veggies and mashed potatoes, and both feed a family of five for $37 and $40, respectively. "It's really attractive pricing and a very high quality, healthy meal," Lore said.
As Lore plans to scale the business, he said Wonder will pay a minimum of $22 an hour for chefs and as the service starts to roll out across the country, hiring hundreds of thousands of people, "eventually over a million people at scale – that's a lot of jobs," he said.
In addition to the mobile venue, Lore said there are other applications for the restaurant recipes. When Wonder buy the rights, it acquires all of the off-premises rights, that is, everything outside of the restaurants proper.
"In addition to what we're doing on these trucks, we can extend out in many different categories," he said. "It's B to B businesses where we'll leverage this content and R&D capability. You can put these ovens in hospitals, schools, stadiums and bars, and we could literally send the kits that come out of our commissary kitchen and a low-skilled person could cook incredible quality food. We think that's a big opportunity."
Envoy is a delivery service for local restaurants that will compliment Wonder. Besides the 17 eateries now available on the Wonder app, Lore said there are dozens, sometimes hundreds of local restaurants within five six seven miles of your house. "There's a lot of long tail foods that are really good and aren't going to be available on Wonder."
Asked how Envoy differs food delivery services such as Grub Hub and Uber Eats, Lore said, "They're basically the same, except we're building a relationship with our first party business Wonder, and we don't have to spend marketing dollars to get that other business. We're giving customers a one-stop shop for all cooked food. It's a way to have good relations with local restaurants because we want the local restaurants to do well. We don't want to take away business from local restaurants. That's the last thing we want to do."
Lore is also cofounder of Vision Capital People or VCP with former baseball player Alex Rodriguez. The venture capital firm makes big bets on digital retail. One of VCP's first investments, for example, was NOWwith, which combines the heady element of celebrities with product recommendations and social commerce. When the platform launched, consumers saw Jennifer Lopez riffing about her morning ritual, and Jesse Palmer sharing his face skin care routine.
Lore said the chefs were amazed when their dishes were put to the taste test and incredulous that their recipes could taste so good when finished off in a mobile truck's high speed convection oven. "We're a tech company but our DNA is food," he said. "And we're vertically-integrated. We're not a logistics company like some of the other delivery services that are just moving food from one place to another.
"It's Wonder that proactively institutes the policy to ensure that the R&D process takes hold, because Wonder would never want to serve anything that wasn't as good, if not better than restaurant quality," Lore said.