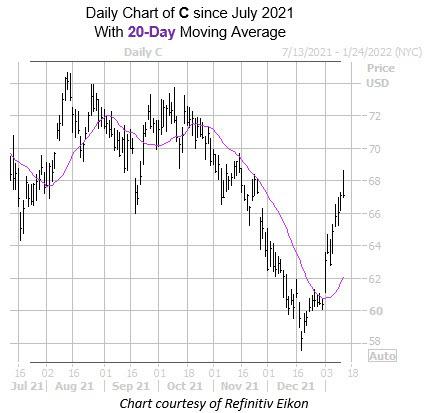 Will Citigroup Stock Continue Its Rally After Earnings?
Citigroup Inc (C) is gearing up for its fourth-quarter earnings report, due out before the open on Friday, Jan. 14, in which analysts expect profits of $1.39 per share. Though the stock is flat today — pulling back from previous gains — C has been rallying on the charts lately, finishing higher after six of its last seven trading sessions. During this time, the stock has continuously broken above a multitude of short-term moving averages, including former pressure at the 20-day trendline.
The options pits are pricing in a post-earnings swing of 4%, regardless of direction, which is slightly higher than the 3.1% average move from the last two years. Of the last eight next-day sessions, only two ended positive, including a mild 0.8% rise this past October.
ADVERTISEMENT
It's also worth noting that Citigroup stock could be due for a short-term pullback. The security's Relative Strength Index (RSI) of 90.8 sits firmly in "overbought" territory. Meanwhile, short interest has been steadily increasing over the past few months, now accounting for 2.1% of the stock's available float.
Analysts are split on C. Seven of the 14 in coverage carry a "strong buy" rating, with the remaining seven a "hold," leaving plenty of room for adjustments in either direction following the stock's upcoming report.