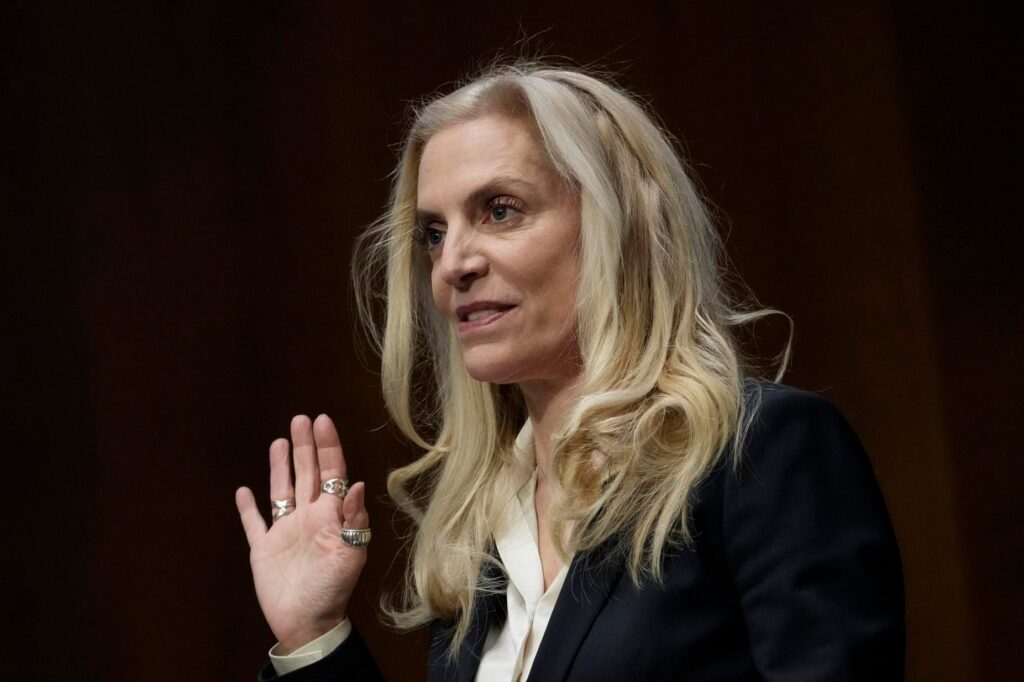 Will Circle And Tether Reign Supreme? Federal Reserve Predicts Stablecoin Issuer Duopoly
Federal Reserve Governor Lael Brainard, nominated by President Biden to be the Vice Chair of Supervision at the Fed, issued a warning Friday about the rapid growth of stablecoins. Before the 2022 U.S. Monetary Policy Forum, Brainard forecast, "If current trends continue, the stablecoin market in the future could come to be dominated by just one or two issuers."
Brainard described a 'crypto finance ecosystem' – specifically decentralized finance (DeFi) – as responsible for a fueling a demand for stablecoins that has led to rapid growth. Brainard also warned of the prominence of crypto ads seen in the Super Bowl should be a signal of an increased exposure of retail investors to stablecoins.
Meanwhile, both the Senate Banking Committee and House Financial Services Committee held hearings over the past two weeks exclusively focused on stablecoins. Brainard herself awaits a decision from the Hill regarding her nomination at the Fed, which appears stalled in the Senate for her and other nominees as a result of a disagreement between the White House and GOP Senators over one of the nominees, which is not Governor Brainard.
The Risks Of Stablecoins To The Global Economy
According to Brainard, stablecoin issuers themselves predict, "…that stablecoins will also have an expanded reach in the payment system and be commonly used for everyday transactions, both domestic and cross-border." Assuming this is a future state for the markets, Brainard prescribed regulators implement, "strong frameworks for the quality and sufficiency of reserves and risk management and governance, with respect to the stablecoin marketplace."
Regarding the potential for one or two stablecoin issuers to dominate the market, results from Messari, a leading crypto market intelligence firm, shows the two leading stablecoin issuers as Tether (USDT) and Circle (USDC), which are #3 and #4 in total market cap that are combined $407 billion in size.
"…As of January 2022, the largest stablecoin by market capitalization made up almost half of the market, and the four largest stablecoins together made up almost 90 percent," said Brainard.
The risks of stablecoins have been laid out in the recent report by the President's Working Group on Financial Markets. Brainard argued the three key risks of stablecoins highlighted by the report – bank run risk, settlement risk, and systemic risk – would need to be addressed specifically as a result of the growing concentration in the stablecoin issuer marketplace.
CBDCs Could Coexist With Stablecoins
Brainard argues large shifts between stablecoins and deposits, which may lead to large-scale redemptions by risk-averse users at times of stress, could prove disruptive to financial stability. In a sign that perhaps the Fed's analysis indicates that stablecoins will exist in a future state of the marketplace, Brainard hypothesizes, "the coexistence of CBDC alongside stablecoins and commercial bank money could prove complementary, by providing a safe central bank liability in the digital financial ecosystem, much like cash currently coexists with commercial bank money."
Amid the rapid growth of the new digital financial market ecosystem, Brainard said the priority for a CBDC to to preserve ready public access to government-issued, risk-free currency in the digital financial system. If designed in the right way, Brainard suggests a CBDC could be attractive as a store of value and means of payment to the extent it is seen as the safest form of money.
New Stablecoin Legislation On The Hill
After the stablecoin hearings in both the House and Senate, Congressman Josh Gottheimer (D-NJ) released a discussion draft of stablecoin legislation. According to a press release from his office, the bill could, "help lower the risk of instability in the financial market, protect consumers, and support ongoing fintech innovation in the U.S."
Dante Disparte, Circle's Chief Strategy Officer and Head of Global Policy, whose company as of January 31, 2022 announced $50 billion of USDC had been issued, was quoted as part of the Congressman's press release, stating, "We welcome the leadership from Representative Gottheimer, who has taken a thoughtful, risk-based approach to stablecoin innovations in the U.S. and how they can fit inside Federal regulatory frameworks."
Both Kristin Smith, Executive Director of the Blockchain Association and Teana Baker Taylor, Chief Policy Officer at the Digital Chamber of Commerce, signaled their support for Gottheimer's bill as well as the proactive engagement of the Congressman with industry in developing the legislation.
"Rep. Gottheimer's bill represents the most comprehensive and well-thought-out stablecoin legislation we've seen to date," said Smith. "We are pleased that Congress is taking a proactive approach by engaging with stakeholders in industry and government as they consider the best path for stablecoin regulation. We thank Rep. Gottheimer for his leadership in this area and look forward to continuing to work with him on these issues going forward."
"The Digital Chamber of Commerce appreciates Rep. Gottheimer's proactive consultation with the industry and looks forward to continued engagement with Mr. Gottheimer, as well as with other Members, on working towards an appropriate regulatory framework that puts in place proper safeguards, preserves innovation, and enables a level playing field for both established stablecoin arrangements and new entrants within this evolving marketplace," said Taylor.