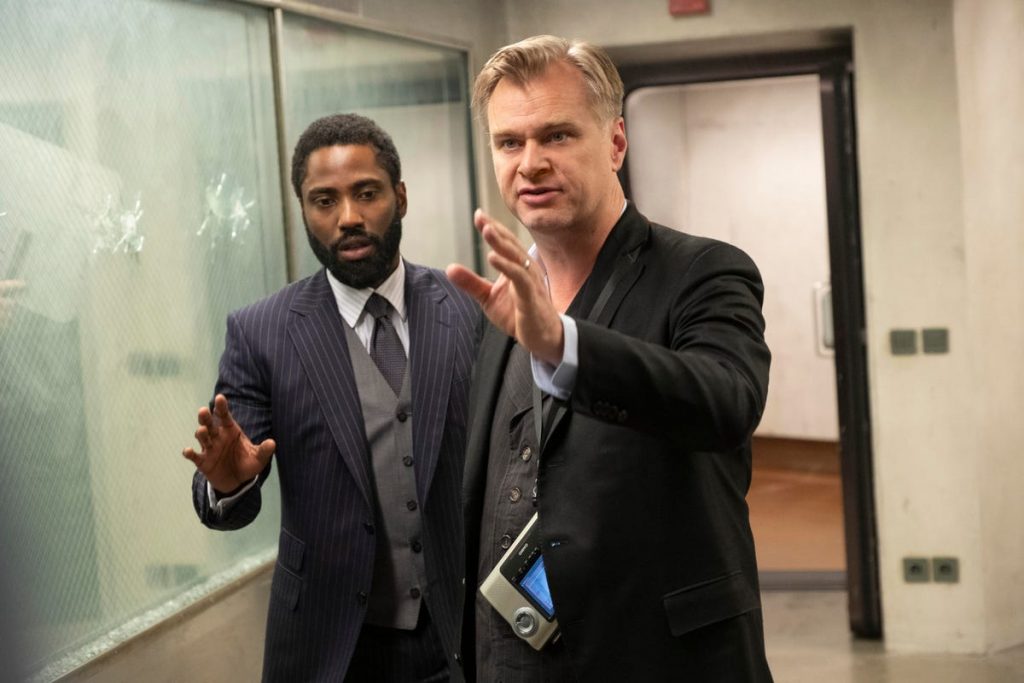 'Tenet': Its Disappointing $364M Gross Is Now An Aspirational Box Office Benchmark
Chris Nolan's Tenet was a pretty big miss in terms of raw theatrical earnings versus production budget. $363.7 million worldwide on a $200 million budget is a poor result, just as it was for the likes of Battleship ($303 million/$209 million), Prince of Persia ($336 million/$200 million) or Robin Hood ($321 million/$200 million) in the early 2010s. Yet, a year later, there is a skewed kind of irony in that the film's comparatively inferior theatrical result (even if it would have been pretty great for an original movie directed by anyone other than Chris Nolan) now stands as an aspirational box office benchmark. As summer winds down with Shang-Chi and the Legend of the Ten Rings, there have been almost no theatrical releases in 2020 and 2021 that have gotten anywhere near Tenet.
Maybe Chris Nolan was somehow singlehandedly bullying AT&T into releasing his movie into theaters last summer, come hell or high water. Maybe Warner Media put the film out theatrically to get it off the bench because they knew Nolan would never allow the picture to debut concurrently in theaters and on HBO Max. I'm guessing the truth is somewhere in between those extremes. No matter the reason, Tenet debuted overseas in advance of its American release to primarily positive reviews. However, as we've seen with Candyman, a divisive Film Twitter discourse created the impression of a more significant critical divide. While the picture opened with a solid $53 million overseas (including $29 million in China), the espionage actioner opened to mostly empty theaters in North America over an extended 11-day Labor Day week debut.
It would earn $20.2 million by the end of its "first weekend," with around $9.4 million of that coming from its American opening weekend (not counting Canada). The plot-heavy but relatively lighthearted John David Washington/Robert Pattinson actioner stuck around ad grossed $58 million domestic. Ironically, it did pretty damn well overseas, earning $66 million in China and $306 million outside North America. I've long argued that the comparatively cold and non-melodramatic film was always (in 2020 sans Covid) going to end up closer to Interstellar ($677 million in 2014 sans the 2020 China reissue) or even Dunkirk ($525 million in 2017) than Inception ($824 million in 2010. Its overseas total was thus around 75% of what it arguably would have been. Had it followed suit in North America (instead of earning 1/3 of likely non-Covid grosses), it might have reached a face-saving $435 million cume.
A poor domestic showing, partially thanks to theaters in New York, Los Angeles and elsewhere remaining closed, led to a slew of delays for the likes of Top Gun: Maverick, No Time to Die and Black Widow. The movie that was supposed to "save" movie theaters, or (in less hyperbolic, media-driven terms) at least give multiplexes a genuine tentpole just as they were reopening with the presumption that more would follow. It performed so poorly in North America that it left theaters in a lurch until Godzilla Vs. Kong in March 2021. Yet, one year later, thanks partially to shifting theatrical windows, day-and-date releases, a summer mostly filled with smaller-scale movies and some bad luck in terms of tentpole scheduling, its overseas grosses and overall global earnings are now a near-unreachable benchmark for post-Covid Hollywood moviegoing.
Save for Black Widow ($368 million, not counting the $125 million from Disney+ and sans any theatrical run in China) and F9 ($704 million, including $216 million in China), only Godzilla Vs. Kong ($100 million domestic, $188 million in China and $460 million worldwide) has gotten anywhere near Tenet's once-disappointing run. Now Black Widow obviously would have earned closer to $700 million than $400 million in conventional times with a traditional theatrical run and a healthy China release. Jungle Cruise likely would have cleared $400 million (and possibly much more) in a non-Covid world. Raya and the Last Dragon might have performed like Moana ($650 million) had it opened sans Covid in November 2020. And, yeah, poor Wonder Woman 1984 earned maybe 15-20% of its theatrical potential opening on Christmas weekend 2020.
Save for those films plus the likes of Shang-Chi, Space Jam: A New Legacy and The Suicide Squad, most of what stayed in summer 2021 were horror movies, budgeted at a level for which even $100 million worldwide would be mostly "good enough." Even so, A Quiet Place part II now sits just under $300 million (or around 90% of A Quiet Place's $341 million cume) and The Conjuring: The Devil Made Me Do It has earned $197 million on a $39 million budget. The $250 million question is whether the chasm between Tenet and most of the pandemic era releases is primarily due to the nature of those releases. Will we start seeing bigger grosses once bigger movies (Venom: Let There Be Carnage, Top Gun: Maverick, No Time to Die, etc.) start arriving in theaters?
Tenet earned $305 million overseas in part because people wanted to see Tenet. The Chris Nolan name still matters. So too did the promise of an original mega-movie with gorgeous movie stars dressed to the nines cosplaying James Bond amid time inversion antics and larger-than-life practical action set pieces. Whatever my issues with the movie (it certainly played better with subtitles, dammit), it delivered on its marketing promises. In a better time, Tenet was intended to be the brainy "for the love of the game" blockbuster counterprogramming alongside conventional franchise entries and IP exploitations. Sure, it was never going to top $1 billion, but it didn't deserve to be anointed as the savior of an entire industry any more than the ambitious, swing-for-the-fences Wonder Woman 1984 deserved to be an HBO Max sacrifice. And yet, it still earned $365 million.
I can only express cautious optimism from F9, Free Guy and even Wrath of Man (one of Jason Statham's biggest R-rated/non-franchise actioners ever with $103 million). Tenet's comparatively idealistic global total doesn't mean, even ignoring moral concerns, that Hollywood shouldn't have moved the year-end biggies out of 2020. However, Hollywood should have been more aggressive, especially after Godzilla Vs. Kong overperformed even pre-Covid expectations, about dating more giant movies between mid-April and mid-June instead of waiting for two months until F9 and Black Widow kicked open the floodgates. Few predicted that a new heavily contagious Delta variant would spread like wild among a (mostly) unvaccinated populace, but Hollywood left the prime of the summer season relatively barren. And now, by default, Tenet is one of the biggest global grossers of both 2020 and 2021.