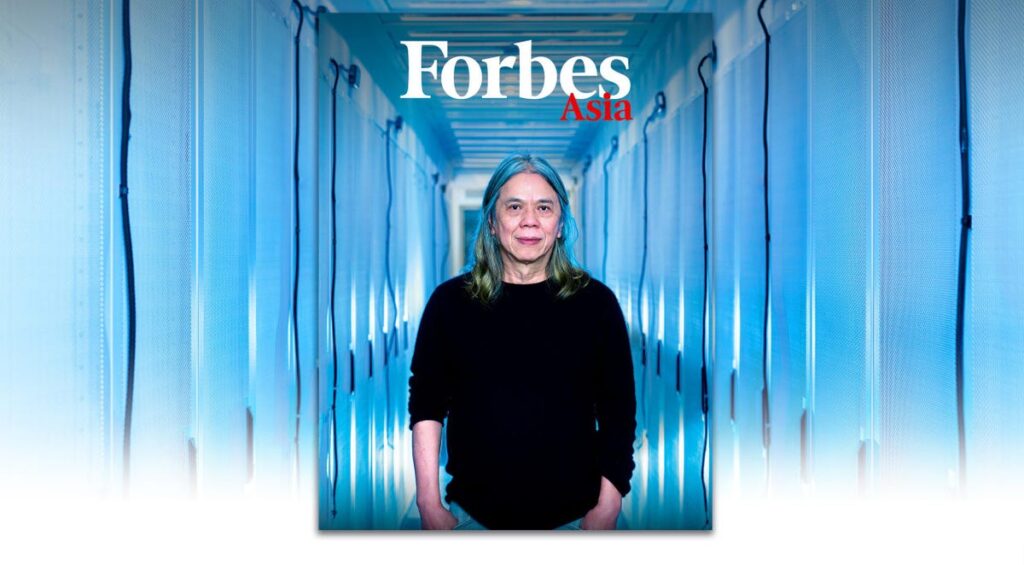 Tech Billionaire Otto Toto Sugiri Spearheads Data Center Boom To Power Indonesia's Economy
Billionaire Otto Toto Sugiri, one of Indonesia's earliest tech entrepreneurs, is now helping to grow Indonesia's digital economy by building its largest data center company DCI.
With his trademark black shirt and long gray hair, otto Toto Sugiri, cofounder and president director of data center company DCI Indonesia, stands out among the country's youthful tech entrepreneurs. The 68-year-old, who learned to program before many of those entrepreneurs were born, is one of Indonesia's earliest tech entrepreneurs, blazing a trail for others to follow.
His first company Sigma Cipta Caraka, which he started in 1989, was one of Indonesia's earliest homegrown software companies and became one of the largest by sales, beating out competition from imported software providers. From there, Sugiri set up the country's first internet service provider Indointernet in 1994, giving millions of Indonesians access to the internet for the first time. During the dot-com boom, he founded BaliCamp, a company on the resort island to incubate startups and offer outsourcing services. "Sugiri is like Indonesia's Bill Gates," says Tom Malik, chief operating officer of local big data company Dattabot, who has known Sugiri for more than two decades.
Now, as a new generation tries to launch their first companies, Sugiri is well into his latest act building data centers, the critical infrastructure at the heart of any digital economy. Founded by Sugiri and six others in 2011, DCI is Indonesia's largest data center company, providing over half the country's local capacity. Of the four cloud vendors operating in Indonesia—Alibaba, Amazon Web Services, Google Cloud and Microsoft—DCI says three are clients, as are some of Southeast Asia's largest e-commerce companies. DCI also counts among its clients over 40 telecom firms and more than 120 financial services providers across Indonesia, Southeast Asia and the U.S.
After listing in January, DCI stock has risen around 11,000% to date.
To be sure, Indonesia's data center capacity, at 81 megawatts (MW), is dwarfed by Singapore's 613MW (data centers are ranked by power consumption). But Sugiri says that the shortfall represents opportunity. "Indonesia has the largest population in the region, but with one of the lowest data center capacities per capita in the world," says Sugiri in an exclusive interview in late October.
The rapid growth of Indonesia's digital economy will generate huge demand for data centers to handle all that traffic. Indonesia's e-conomy is the largest in Southeast Asia, with an estimated $70 billion in gross merchandise value (GMV) this year, according to a recent Bain, Google and Temasek report. E-commerce giant Bukalapak did the country's largest-ever IPO in August, raising $1.5 billion, and at least four more local unicorns, including GoTo and Traveloka, would like to list in the next 12 months. VC firms poured $4.7 billion into Indonesian deals to June this year, the most invested anywhere in the region.
DCI is doubling down to stay on top. Over the past decade the firm has spent $210 million to build four data centers at its main 8.5 hectare site in Cibitung, just outside of Jakarta, which can be scaled up to 300MW to meet further demand. In May, billionaire Anthoni Salim upped his stake in DCI from 3% to 11% as part of a broader strategic partnership between his Salim group and the company.
Under the deal, DCI will manage the Salim group's in-house 15MW data center—which itself can be expanded to 600MW to meet future demand. DCI is also being asked to oversee other data centers of the group, not counting the additional business that could potentially come from the group's massive portfolio of companies and properties across Indonesia and the rest of Asia. "We believe data is a pivotal point of digitalization, and it will continue to grow exponentially. DCI, as the locally grown technology company with proven expertise in data center solutions, is our key strategic partner," says Salim by text.
DCI's financial figures are impressive. The company booked an 81% rise in revenue, and a 57% increase in net profit, on a compound annual growth rate from 2017 to 2020. In this year to end-September, however, revenue grew just 3% year on year to 607 billion rupiah ($43 million). Sugiri explains the low figure masks the recurring revenue figure, whose higher margin show up in the net profit that grew 24% to 173 billion rupiah to end-September.
One sign of investor confidence is in DCI's stock price. After listing in January, the stock has risen around 11,000% to date to a recent 44,000 rupiah. At $7 billion, DCI is now one of the most valuable companies on Indonesia's stock exchange by market cap. Sugiri and two other cofounders have become billionaires based on their stakes in the company—making up three out of the four new entries on this year's Indonesia's 50 Richest list.
---
DATA DRIVER
DCI has seen both revenue and net profit climb over the past four years, thanks to growing demand for data center services.
The stock's meteoric rise led Indonesia's stock exchange to suspend trading of DCI shares five times this year, launching an investigation in June. Sugiri says the exchange has absolved the company and the founding shareholders of any wrongdoing. The exchange declines to comment on any investigation as a matter of policy. Sugiri believes the gains were due in part to huge investor demand chasing a small number of shares on offer.
DCI's success has attracted some heavyweight competition. In May, billionaire Theodore Rahmat's Triputra group said it was teaming up with Singapore's ST Telemedia and Temasek to get a 72MW data center online by the end of 2023. In November, the Sinar Mas business group, backed by the powerful Widjaja family, announced it was partnering with Abu Dhabi's Group 42 to build a local 1,000MW data center (no date was given for its opening). Leading Indonesian property group Ciputra has also expressed interest to enter the data center industry, but hasn't yet unveiled any specific plans. Other international and domestic companies already in the market have announced their intention to expand.
Sugiri remains unfazed by this emerging rivalry. "Data centers in Indonesia will become more critical as big global internet and technology companies see the importance of being closer with their users," he says. "Our current target is to remain the biggest player in Indonesia. This is our playground."
"Sugiri is like Indonesia's Bill Gates."
Sugiri speaks from more than four decades of experience in Indonesia's tech industry. After getting a bachelor's in electrical engineering and a master's in computer engineering from Germany's RWTH Aachen University, he returned to Indonesia in 1980 originally to take care of his ailing mother, who later passed away. He then stayed in Indonesia to do a variety of local programming gigs, such as writing engineering software for oil companies or a program to manage loan disbursements to fishermen in Papua for a U.N. agency. In 1983, Sugiri joined Bank Bali, then owned by his uncle, Djaja Ramli. (Bank Bali later merged with Permata Bank, which in turn got bought by Bangkok Bank.)
"We developed the bank's IT system, from the back office to accounting. I worked with different departments to come up with software to make the work more efficient. One of the successes I remember was that the accounting staff could go home before sunset. Previously they worked until almost midnight working on manual bookkeeping," Sugiri says.
He left to start his own software firm Sigma Cipta Caraka in 1989 with $200,000—enough to pay ten months' salary and rent. He was joined by six former Bank Bali employees, including Marina Budiman, now president commissioner at DCI. It was perfect timing. The government had just deregulated the banking industry, and the number of banks jumped from 111 in 1988 to 240 in 1994. These new banks needed IT support, and Sigma soon booked its first client. It was profitable within its first year, with $1.2 million in income.
While Sigma was a distributor for IBM, the company's major revenue generator soon became its own proprietary programs. Its main competitor was Multipolar, owned by Mochtar Riady's Lippo group. But Multipolar only sold expensive imported software, while Sugiri offered cheaper software that he and his team had programmed for local market conditions.
Around this time a friend approached Sugiri with the idea to start Indonesia's first internet service provider. The pair originally just wanted to give Indonesian students a cheaper and faster way to access imported learning materials. "Books were expensive at the time and took time to get to Indonesia," he says. In 1994, they launched Indointernet, giving not just students but all Indonesians a chance to surf the worldwide web for the first time.
Sugiri's next act in 2000 was BaliCamp, a self-described "artist colony for software developers" on the resort island that was a subsidiary of Sigma. With the dot-com boom in full swing, Sugiri used the island's low costs and idyllic lifestyle to attract local and international tech talent to the island to incubate startups and offer outsourcing services. One BaliCamp project helped create an Indonesian-language spellchecker for Microsoft. "There were many IT companies in Indonesia at the time, but they likely made you a sales engineer or a marketing guy. Only a few companies would let you develop a product. Sigma was one, and its BaliCamp was the most famous….I heard it was the coolest place to work," says Leontinus Alpha Edison, cofounder of e-commerce firm Tokopedia (now merged with Gojek to form GoTo). He and fellow Tokopedia cofounder William Tanuwijaya worked at Sigma for a couple of years.
"Data is a pivotal point of digitalization and will continue to grow exponentially."
Although BaliCamp closed following the Bali bombing in 2002, Sigma was still going strong. Since Sugiri ran the business debt-free, he managed to survive the Asian financial crisis, and at its peak Sigma reportedly was doing about $21 million in revenue—and had 50 bank clients that included ABN Amro and the Bank of Tokyo. Sugiri had also begun to dabble in data centers, operating two of them.
In 2008, Sugiri sold 80% ownership in Sigma to the country's largest telecom firm, Telekomunikasi Indonesia (Telkom), for $35 million. Telkom sweetened the deal by saying it would help Sugiri take the firm public. When the listing didn't materialize, Sugiri two years later sold his remaining stake for $9 million and thought about retirement.
That idea was short-lived. In 2011, the Indonesian government announced its intention to on-shore Indonesian data, discouraging the use of offshore centers. Sugiri saw an opportunity and with six others launched DCI. To attract the biggest and best clients, Sugiri made sure DCI got Tier IV certification, the global data center industry's highest classification, in 2014. To qualify, a data center must guarantee being online for 99.995% of the time, and have fully redundant backup power in the case of blackouts. "I was challenged to make the highest standard facility, which is not cheap," says Sugiri. "Tier IV data centers cost 60% more [to build] than Tier III. But it was a matter of building credibility."
---
IN THE PIPELINE
Indonesia has 81MW of existing data center capacity, with about 200MW more planned.
Through its tie-up with the Salim group, major expansion is on the table for DCI. On the Indonesian island of Bintan, off the coast of Singapore, DCI will manage a data center for the group. Given the island's location, this data center could potentially tap the Singapore market. The Salim group is reportedly in talks with banks to raise as much as $500 million to fund even more expansion into data centers.
While Singapore is far ahead of Indonesia in data center capacity, DCI has a chance to gain ground in the region. Singapore declared a temporary moratorium in May on adding data center capacity on state land amid concerns that the industry's rapid expansion could put a strain on the country's available land, power grid and other resources.
Indonesia has potential to be a regional hub, says San Francisco-based Kevin Imboden, director of research for Cushman & Wakefield's global data center advisory group. Emerging technologies such as the Internet of Things and 5G networks will drive the need for more capacity and processing power located within the country and region, he notes. The construction of two subsea cables, to be completed in 2023 and 2024, will allow faster connectivity between Jakarta and financial centers such as Singapore.
Meanwhile, Indointernet remains in business, chaired by Sugiri, who has a 16.5% stake. The company which listed in February, has seen its shares rise threefold to date and in June Singapore-based data center operator Digital Edge bought a controlling 59.1% stake in the company for $165 million (Sugiri remains on the board). Digital Edge is headed by Samuel Lee, the former president for Asia-Pacific for U.S. firm Equinix, the world's largest data center operator with 227 centers worldwide. Digital Edge wants to expand across Asia.
"There is huge excitement in the data center industry right now," says Sugiri.