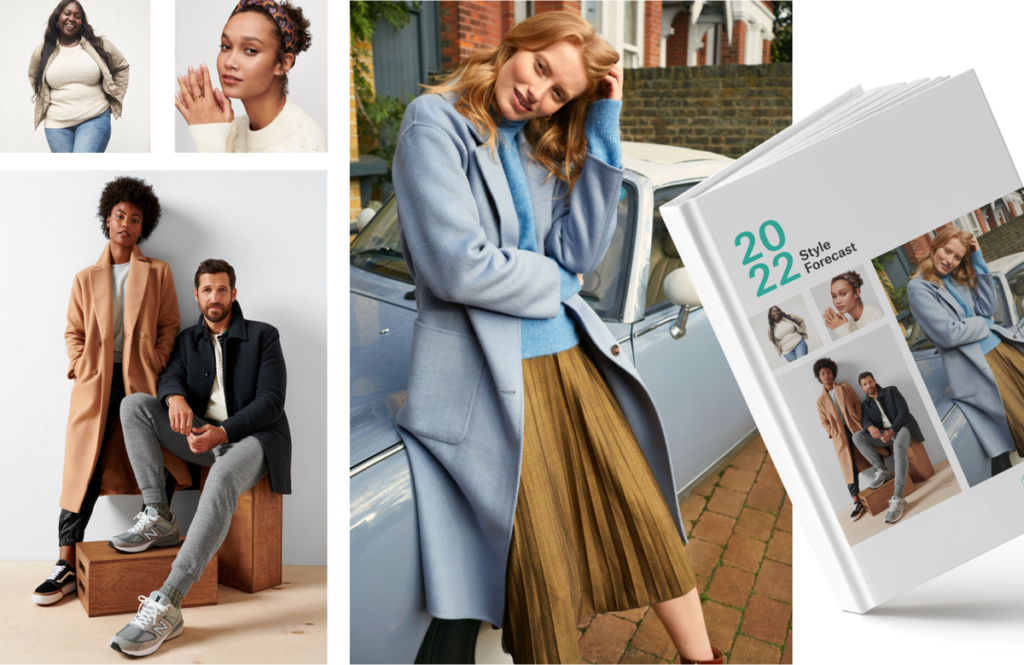 Stitch Fix's Inaugural Style Forecast Reports On Covid-19 Trends And Looks Beyond To 2022
For the first time, online personal styling service Stitch Fix has compiled proprietary data and stylist insights with consumer research into a report that offers a bead on the latest styles and shopping preferences of the patform's millions of clients.
The Stitch Fix 2022 Style Forecast delves into Covid-19 pandemic consumer behavior and segues into what to expect in the near future, now that many markets are opening up and clients are looking to "dress" again and refresh their wardrobes.
"Our inaugural forecast looks back at 2021 milestones, when work from home requests eased and demand for jeans soared as the world started to open up," said Elizabeth Spaulding, Stitch Fix CEO. "It shares expectations for 2022, including the future of workwear and the evolution of ath-leisure."
Loretta Choy, general manager, women's at Stitch Fix, said clients have been shifting their wardrobes to find an appropriate balance from Zoom life apparel to clothing for "exploring and getting outside and embracing the beautiful environment around us. It's almost like spring coming upon us where you see brightness and optimism and people wanting to look deeply into their closets to bring a little bit of light into their wardrobes.
"We started with hot pink and fuchsias and then lavenders and greens and even this rich brown has become a really powerful color," Choy said on a Zoom call. "I'm unfortunately not wearing color today. I'm a black/gray person, but I'm excited about wearing color."
Stitch Fix clients – 58% of women and 53% of men – said their look changed during the pandemic, and they expected those changes to continue in the near term. Two-thirds, or 67% said they're likely to replace clothes in their wardrobes. This will be a major purge, not just just swapping out a few pieces here and there as consumers look to replace one-third of their wardrobes, and with 33% planning to replace at least half.
Reasons why consumers want to overhaul their closets include wanting new styles and trends, 36%; needing a different size, 32%; social life is resuming, 27%; needing clothes for a specific event, 19%, and going back to the workplace, 17%.
Consumers aren't giving up the hard-won comfort that got them through the pandemic. In fact, nearly a third, or 31% reported that they would rather take a 10% pay cut than have to get dressed up for work every day, and 77% said they had sworn off at least some business clothes for good.
It behooves retailers to come up with a new way forward for work wear since the loss of suiting – which was a big ca-ching at the cash register – is a significant hit.
"The way we've been talking about comfort has been through stretch fabrications," Choy told me. "You saw this demand during the pandemic. Now woven fabrications have been rearchitected into knit fabrications. Something we've been seeing even prior to Covid is the introduction of really interesting fabrics that appear as beautifully as a woven fabrications, but are actually knit fabrics.
Knit blazers have been trending in Stith Fix's business "and they look amazing, whether you're wearing it for a weekend brunch or actually going back into the office," Choy said.
Business comfort is an international trend, the report pointed out, noting that 72% of U.K. consumers declared that comfort is their top priority for their work at home wardrobe.
For men, the report said expect to see fewer Oxford shirts at the office next year. While they're still a staple, polos are starting to encroach on their turf. Polos in performance fabrics are a particular favorite, representing about half of polo sales this year, up from about a quarter of polo sales last year. In 2022, the company expects polos to make up 40% of Stitch Fix's short-sleeved knits inventory.
The Stitch Fix report also noted a shift in silhouettes. "When you think about silhouettes, we've been wearing skinny jeans forever," Choy said. "We're now talking about wide, loose legs, straight legs, and a little more ease and fluidity in the leg."
It's the reverse of the prevailing trend of the past few years of leggings and tight jeans worn with looser-fitting tops, to closer-fitting tops and looser silhouettes on the bottom. "We also saw that with elastic-waist pants, drapier fabrications in pants, and wide legs growing again in denim."
Denim sales were up about 30% in 2021 year over year. Women's wide leg sales grew even more dramatically, increasing 70% over last year. About 35% of consumers said they'll never wear skinny jeans again, with clients on the West Coast even more adamant, weighing in at 44%.
The new silhouette triggered from a Stitch Fix lens, questions from clients about how to put this look together, Choy said, adding that the platform has seen a shift in dresses as well. "We've seen dresses in our business grow so meaningfully," she said. "They've always been a key part of our business, but over the last year, it's ramped even faster.
"Everybody's looking for this every optimistic view and for that one shot of optimism, dresses can really do that," Choy added. "We've been seeing great fabrications such as slim-fit knit ribbed dresses. We saw the trend start to build into the winter months and it's building even more. It's cozy and comfortable, but looks super-classic and polished with a great boot."
Size inclusivity has been on Stitch Fix's radar for some time and the company is using a larger breadth of sizes to expand its business. "Since we launched plus several years ago, we started to see in our data more men and women asking, 'How do I find the right product that fits my body, size and shape,'" Choy said.
From 2020 to 2021, Stitch Fix's women's plus business ballooned 50%. The platform now offers more than 100 brands with women's plus sizing, including Universal Standard, 11 Honoré, Vince, Champion and Levi's and has helped over 30 brands launch plus, including Rebecca Minkoff, Karl Lagerfeld Paris and Mavi. Men's extended sizing, meanwhile, grew about 30% year over year, consisting of 50 different brands.
"We've always wanted to be able to provide the right level of fashion for our clients of all shapes and sizes and we feel with our data and different points of measure, we can deliver that," Choy said. "We're looking to build more brands and more and more fashion-type style for all of our customers."
While consumers may be resisting office dress codes, they indicated that they're ready to dress up for special occasions. More than half, or 55% of consumers said they're excited to get dressed up to go out, with 44% actively planning to replace their going-out clothes. Sales of going out/special occasion styles shot up by more than 50% in 2021 year over year.
Covid revenge dressing is a thing, according to Stitch Fix. "Our female clients are open to trying a skirt with print, sequins or maybe even a leather option for dressing up, proof of feeling adventurous and almost rebellious after the quiet or often non-existent celebrations of 2020," said a stylist quoted in the report.
Ath-lesiure isn't going away. "Outdoor activities have had the greatest uptick we've seen in our business. So, whether the customer is playing tennis or pickle ball or going outside to hike or bike, all of those activities are inspiring some of the newer products we're bringing in such as skorts and bike shorts."
The report cited the World Economic Forum, which said 68% of U.S. consumers say their social values shape their shopping choices, and in the last year, Stitch Fix saw a 22% increase in mentions of terms related to sustainability and organic materials in Fix Request Notes from clients. By 2025, Stitch Fix plans to source 100% of the main materials in its private label products more sustainably.
The platform said relationship-driven shopping has taken hold with 92% of consumers admitting they trust others for an opinion on what looks good on them, which bodes well for Stitch Fix's stylists.
Choy has vacation on her mind in terms of a new category to build out. "We participate in categories like tops, dresses, shorts and sandals, and in some of our lines of business we've started to participate in swimwear," she said, adding that a bona fide travel category is ripe for expansion as consumers are eager to travel and buy new vacation wardrobes.
Stitch Fix will continue to analyze data points as it caters to its clients. "What we find so telling is that customers have this desire to share as much information as possible to make their experience better," Choy said. "We'll continue to find new ways to engage with our customers and capture as much feedback as possible to improve their experience."