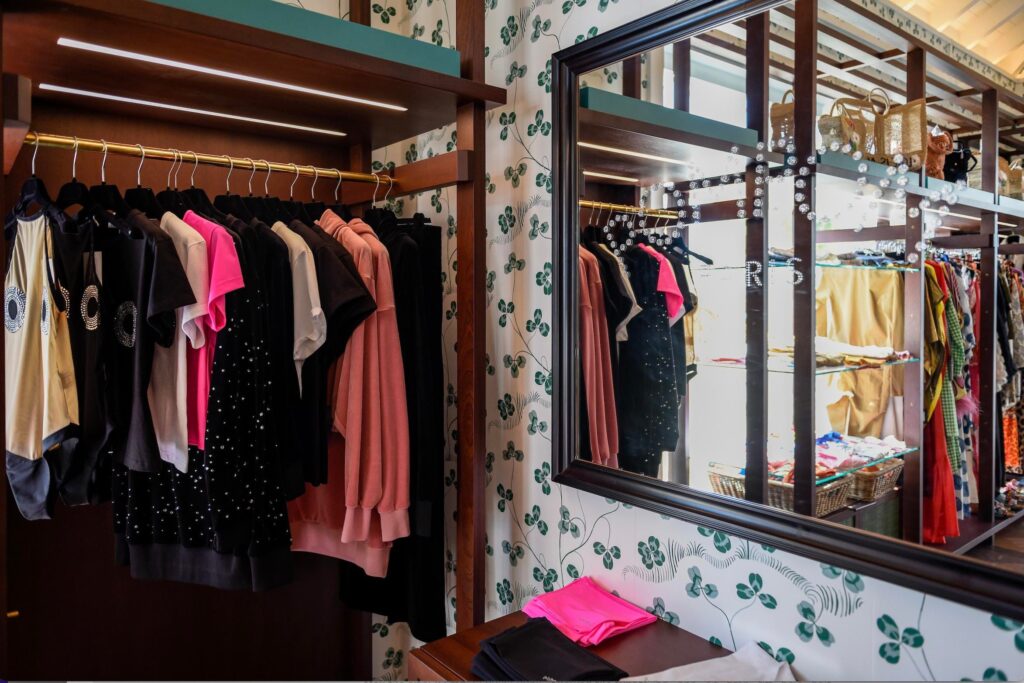 Rosewood Puts An Emphasis On Curated And Localized Retail For Newly Opened Properties
The Rosewood hotel group is stepping up its retail game. For recently reopened and new properties slated for 2022, the hotel boutique will reflect the luxury group's A Sense of Place® philosophy— where local culture and history serve as the inspiration for the entire guest experience by going beyond the typical straw hats and beach schmatta resort shop offering. Instead, each property will direct the selection to connect with its location for curated and exclusive merchandise for a unique retail experience. In many cases, collaborations and pop-ups will enrich the merchandise offering while creating excitement at the stores. The strategy was engaged at the newly reopened Rosewood Le Guanahani St. Barth. Other properties such as Rosewood Miramar Beach in Santa Barbara, CA and Rosewood Hong Kong Shopping lead the group for blending a luxury hotel and shopping experience into one.
Le Guanahani St. Barth recently reopened in November 2021 after a four-year renovation necessary due to the effects of Hurricane Irma. While the physical structures remain largely the same, upgrades to the décor, beach restaurant, and pool area are significant. The retail space La Boutique is nestled on the grand terrace area where the food and beverage and recreation meet the beach.
Despite only being open since November 16th, La Boutique has already explored several pop-up partnerships. The property works with Paris-based Constance de la Fontaine, who largely sources European-based unique indie brands to offer both guests and locals. The selection includes men's, women's and kids' beachwear but also day and casual eveningwear for a simple chic seaside dinner. Labels carried in the space include Mira Mikati, Alanui, Norma Kamali, Raquel Allegra, Love Brand, American Retro, Vanessa Sposi, and TropicofC. Prices range from approximately 2,500 Euros for an Alanlui sweater, approximately 450 Euros for a Mira Mikati hoodie and 525 Euros for a Raquel Allegra dress, for example. Several labels qualify as sustainable, aligning with the resort's eco-friendly approach. The resort sits on a nature preserve.
De la Fontaine's keen acumen of the St. Barth clientele helped realize the first pop-up. It was with About Dreams, a denim label by Raphael Le Friant, son of Bob Sinclar—nee Christophe Le Friant—the French record producer, DJ and remixer, from December 19th through January 2nd, for the height of the Christmas travel.
The latest venture is in partnership with Pompom Paris, an elevated loungewear label by Lola Rykiel, the granddaughter of Sonia Rykiel. The Parisian-raised younger Rykiel took cues from her dance upbringing while simultaneously paying homage to pieces from the Sonia Rykiel collection that resonated with her as a child.
The sporty-chic collection is heavy on cheeky crystal embellishments, cute flirty shapes and sports basics such as boxing shorts and hoodies that have been elevated with silk or velour fabrics. "I was inspired by the clothes I saw the dancers wearing, especially when I was training at Martha Graham. They didn't always have a lot of money for clothes, but the creative way they dressed before and after class had a certain attitude that I loved."
To that end, it makes a perfect accompaniment to a resort store, i.e., cozy hoodie or flowing sweatpants for a cool evening also make for elegant but comfortable plane attire. Rykiel hopes a few daring pieces, such as the Sonia bodysuit in sheer mesh with strategically placed rhinestone discs, will inspire a vacation purchase. "I think sometimes you can be much more daring on your holidays with what you would buy," she continues.
For the collaboration, which will last through late March, the Paris-based designer and the property created a special T-shirt bearing "MISS SAINT BARTH" in Pompom Paris' font in strass. The property hopes that the collaboration with Pompom Paris is more than a short stint and is exploring various merchandise to collaborate on.
The partnership came about as both brands share the same press agency and is part of Le Guanahani St Barth to reconnect the resort with fashion. In the past, it had hosted several high-profile shoots with 90s supermodels, and more recently, in 2016, a Victoria's Secret show and concert took place there.
"We couldn't imagine a more fitting partner for the Boutique at Rosewood Le Guanahani St. Barth than Pompom Paris," said Martein van Wagenberg, managing director of Rosewood Le Guanahani St. Barth. "Pompom Paris is elegant yet sensual, polished yet effortless, simple yet alluring. Lola Rykiel's vision for her brand falls perfectly in line with the ethos of our resort, and we are excited to showcase the very essence of St. Barth through her pieces."
The St. Barth property is one example of Rosewood's group emphasis on a unique retail experience combined with a luxury hotel or resort experience. The Rosewood Miramar Beach, Santa Barbara, CA, which opened in Spring of 2019, boasts several retail outposts such as Brunello Cucinelli, the Italian luxury brand heavy on grey cashmere and beige linen; Sundries by goop, fitting for the location; Laykin et Cie, the California jeweler and retailer founded during Hollywood's Golden Era in 1932; The Gatehouse, a lifestyle concept store from T-shirt king James Perse, The Webster, the unique and highly curated specialty boutique which emphasizes popular local brands and The Shop, an in-house vacation retail concept featuring The Miramar Collection. For Summer 2021, the Miramar Beach location hosted a Dioriviera pop-up, a hugely popular resort activation featuring the French luxury brand's iconic Toile de Jouy-themed holiday garb.
Similarly, the Rosewood Hong Kong Shopping property eschews the hotel rooms for a curated retail experience focused on culinary delights. The lineup includes Butcher Shop, an elevated concept as the name suggests, Butterfly Patisserie, Asaya Skincare, a Flower shop and a seasonal gift shop directed at various holidays. Currently, the offerings focus on the Chinese New Year and western Valentine's Day gifts.
Along with the St. Barth location, Rosewood opened two other properties Rosewood Villa Magna in Madrid, Spain in Q4 2021 and Rosewood São Paulo, Brazil earlier this month. In 2022, at least two more properties are set to open in Vienna, Austria and Doha, Qatar.