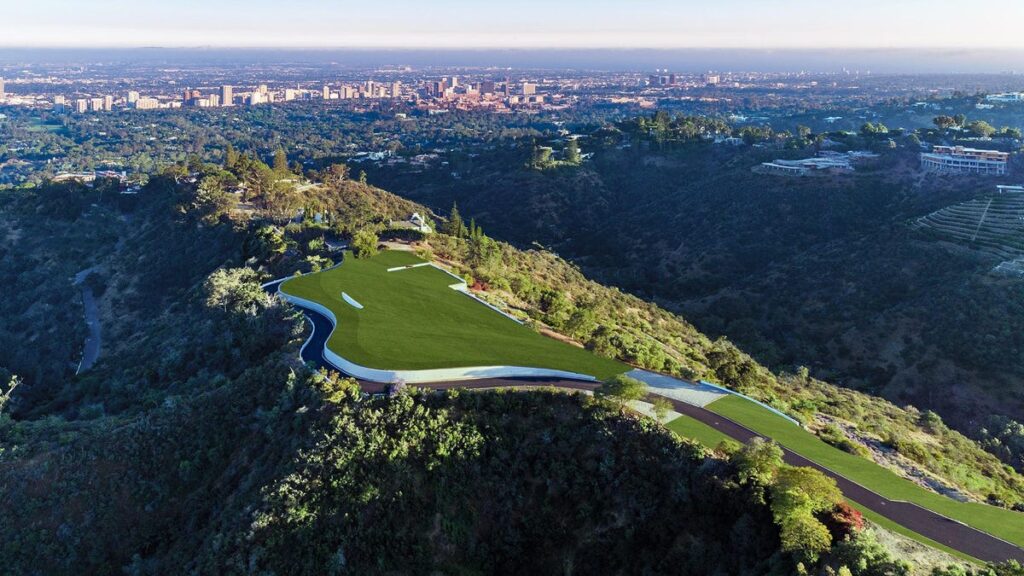 Rare Beverly Hills Development Site Owned By Paul Allen Trust Lands $65 Million
From above it may look like a giant green oasis snaking along the flat top of a ridge, but this 120-acre Beverly Hills site just became a landing pad for $65 million. That's what a property owned by a trust of the late Microsoft co-founder and philanthropist Paul Allen has garnered on L.A.'s Westside.
"This is an absolute landmark sale, which launches us into 2022 like an epic fireworks show," says Zach Goldsmith of Hilton & Hyland. "It sets a tone for the year ahead, instilling tremendous confidence to an already vibrant market."
Set minutes above the Beverly Hills Hotel and Rodeo Drive, the development site is accessed through security gates along Benedict Canyon and Angelo drive. The identity of the new owner was not available.
"The challenges in selling this property start with the extremely limited buyer pool," Goldsmith says. "There are only a handful of people on earth capable of this massive undertaking."
The property was once the site of the Wallace Neff-designed home of silent film cowboy actor Fred Thomson and his wife, Academy Award-winning screenwriter Francis Marion. Actress and neighbor Greta Garbo is credited with calling it Enchanted Hill – a name that has stuck.
The Spanish Colonial was next purchased by inventor and altimeter creator Paul Kollsman. He then sold to an oil tycoon who added more acreage. Tech titan Allen bought the spread in the 1997 for $20 million and razed the original home a few years later.
A private one-mile driveway rises past four flat lots, eventually reaching a four-acre main estate site. All the lots offer panoramic vantage points taking in city, ocean, mountain or canyon views.
Possibilities for development include a hilltop compound with the four lots being used for multiple guest houses, a fitness and wellness spa, an entertainment complex, a winery or equestrian facilities. One architect's vision detailed a futurist mega-mansion of spherical shapes covered by curving walls of glass and topped by roof gardens.
Allen, who died of a cancer-related illness in 2018 at 65, was of the owner of the Seattle Seahawks and the Portland Trail Blazers.
Jeff Hyland, Rick Hilton and Goldsmith, all with Hilton & Hyland, represented the property at 2001 Benedict Canyon Drive, Beverly Hills, California.
---
Hilton & Hyland is a founding member of Forbes Global Properties, a consumer marketplace and membership network of elite brokerages selling the world's most luxurious homes.