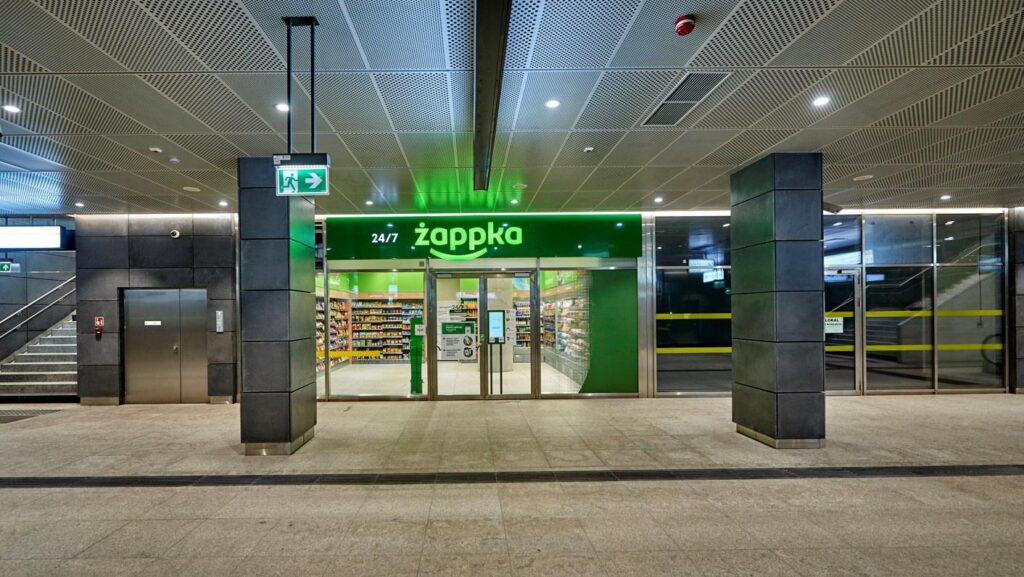 Poland's Biggest Convenience Chain Overtakes Amazon In European Race For Autonomous Stores
Polish convenience giant Żabka Group has completed the opening of the largest chain of autonomous stores in Europe after launching 25 stores under the Żabka Nano and Żappka banners—with at least another 12 set to be added by March.
Using contactless, AI-powered computer vision technology from U.S. tech player AiFi—a system similar to Amazon's Just Walk Out set-up—the concept enables shopping to be checkout-free and fast. Amazon has been adding to its collection of own-branded contactless Amazon Go AMZN and Fresh stores in the U.K. since March 2021 when it said it planned 30, but the company has not been rolling out as fast as Żabka and only opened 15 so far in and around London.
Aldi, Britain's fifth largest supermarket opened a pilot checkout-free store in London today, also powered by AiFi, after "months of work" according to the retailer's U.K. and Ireland CEO Giles Hurley.
Meanwhile in Poland, the private equity-owned Żabka—similar to 7-Eleven—has pushed ahead and opened 25 Nano stores right across the country to cover six cities: Gdańsk, Krakow, Piaseczno, Poznań, Sopot, and the capital Warsaw. Their specific locations vary from city centers, within large-format stores like Decathlon, and universities; to railway and underground stations.
The stores—open 24/7—focus on grab-and-go items like snacks, food and beverages, including a range of the company's own-label lines. Depending on the format, they stock from 450 to 1,500 products excluding regulated items such as tobacco and alcohol. "There are no baskets, so customers just pick up what they need and leave at any time of the day," Pawel Grabowski, head of unmanned solutions at Żabka, told me.
Unmanned stores are creating incremental sales
"In Poznań for example, we are seeing young people using the stores late at night after they have been to bars and clubs," he added. The Nano concept is therefore opening up new, incremental spending for the retailer, at times and/or locations that were previously not accessible. Another example is the subway where all-night units mean access to previously untapped revenue.
Żabka is also looking at the societal aspects of Nano. One of the formats—a standalone, brightly-lit container-based shop—is being tested in isolated streets or in parks where there was no retail present before. "As well as offering convenience, the lighting adds an element of safety and even a social space. These units can transform what can otherwise be dead spots in some areas," said Grabowski.
So far, several thousand people have used the camera-based, computer vision format and the retailer is monitoring the data and customer satisfaction levels. The next set of autonomous outlets are on their way, and like the current batch, will mainly be in high-footfall locations with some positioned near to workplaces that don't have easy access to shopping, and other places where the commercial possibilities look enticing. Right now airport are not a target but hospitals and gyms will be.
Just walk in
While Żabka is using AiFi's computer vision technology, it has integrated its own app called Żappka which is used by over eight million Poles—more than 20% of the population. "The difference between us and Amazon is that we don't have any gates," noted Grabowski. "When you open the door you are already identified (through the app via a QR code) and you can freely walk around."
Without the app, that 'just walk in' option is slowed down a bit for a first-time user. New visitors without the loyalty app can use any bank card to register their presence and then enter their mobile telephone number so that communications such as receipts, billing and customer queries can be made.
Both customer journeys have been developed with some hardware modifications from Żabka Future, the technology arm of the retailer and a business incubator for new ideas. In addition, the system does not use biometrics or facial recognition to identify customers to guarantee full privacy and security.
AiFi—backed by $31 million in investor funding—has been moving fast in the European market. Before the pandemic, in November 2019, the tech startup partnered with Dutch grocery retailer Albert Heijn to open a temporary test store outside Amsterdam's Schiphol Airport. Amazon has also been busy inside airports with its Just Walk Out technology with retail partners OTG and Hudson.
More recently in November 2021, AiFi tied up with French supermarket giant Carrefour to pilot Flash 10/10 in Paris. The store stocks nearly 900 everyday products and has come up with the slogan "10 seconds to shop and 10 seconds to pay" for those consumers whose shopping style is of the Supermarket Sweep variety. In Ireland, British foodservice group Compass also plans to test an AiFi-driven contactless concept at a workplace location once Covid work-from-home restrictions are lifted.
Unlike Carrefour, Żabka is not making any specific claims about how quick the shopping process is in Nano. But in a statement, Tomasz Suchański, CEO of Żabka Group, said: "We want to redefine shopping speed. We have opened 25 Nano stores, but we are not stopping there. We will launch another dozen in the first quarter of this year."
Over the past two decades Żabka Polska has become the largest convenience store chain in Poland, with over 7,900 stores run by 6,500 franchisees under the Żabka brand. The company's stores—positioned so that about 12 million Polish shoppers live within a range of 1,000 feet—are visited daily by more than 2.5 million customers.