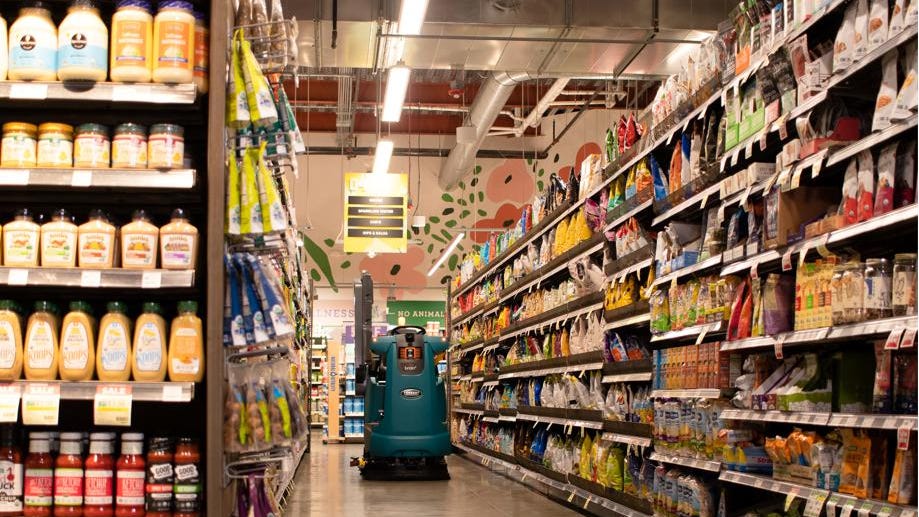 Online Order Cancelled? That's Because Retailers May Have No Clue Where The Item Is
Michael Rempell has a problem on his hands. The retail executive can't be sure where as much as one-quarter of American Eagle's jeans, sweaters and other inventory are. That means that some of the time the company is guessing when it tries to fill the pandemic-era surge in online orders from its stores, potentially ending the transactions with missed sales or cancellations.
While it may come as a surprise to shoppers, most retailers don't have a real-time accounting of what exactly is in stock and where. Full inventory checks are periodic and labor intensive, like the overnight shift American Eagle does once a year, where employees fan out across the nation to tally thousands of pieces of clothing in multiple sizes and colors spread across more than 950 stores. The rest of the year, like many other retailers, it can only account for about 75% to 85% of its products.
"It's more important than ever that we know exactly what we have," says Rempell, American Eagle's chief operating officer. "Accuracy needs to be at close to 100% and today its not."
The widespread problem has taken on new urgency during the pandemic as brick-and-mortar retailers race to compete with Amazon by fashioning their stores into fulfillment centers and offering customers the option of picking up online orders or scheduling fast delivery. Suddenly, the stores have to guarantee to online shoppers that an item is where they think it is — and hasn't been put in a shopping cart, stuck on a mannequin, stranded in a dressing room, stolen or lost. Busy stores, many of them understaffed, are ill-equipped to do double duty, with inventory accuracy rates of 70% to 90%, lagging significantly behind distribution centers at above 99.5%, according to McKinsey.
"You need a level of accuracy to enable a seamless customer experience that retailers weren't ready to offer," says Michael Ryba, a partner at Boston Consulting Group. "The pandemic has absolutely put a spotlight on inventory management in a pretty dramatic fashion."
If retailers don't know where even a tenth of their inventory is, that could potentially cause problems with one out of ten online orders fulfilled out of the store, says Brendan Witcher, an analyst at Forrester, calling that an "unmanageable" number. In a recent Auburn University study, researchers found that just 13% of retailers have an accurate inventory count on their website. That means they could be promising items they don't have. It's difficult, however, to quantify exactly how many order cancellations or missed sales that results in.
Frustrated shoppers have little understanding of what's going on. When Bill Foster, 49, placed an online order for children's cold medicine and six boxes of Kleenex to pick up as soon as possible at a Walgreens in the Seattle area, he got an email canceling the order about an hour later. "It's not a huge deal," he said. "Just seems a bit strange." A nurse in New York spent several days searching for available Covid-19 tests online when one night she came across some "in stock" at her local Walmart. She placed an online order for pickup the next day and her credit card was charged, but the order was cancelled before she could get what she wanted.
It's not just high-demand items like testing kits that are hard to get, but everything from toy Tonka trucks to Ford pickups. This comes at a time when shoppers are battling for a more limited number of products thanks to the ongoing supply-chain crisis, which resulted in a record six billion out-of-stock messages during the all-important holiday shopping season, according to Adobe.
American Eagle, Sam's Club and other retailers are testing high-tech tags, robots and other technology to track inventory. Store employees can also fill online orders faster if they know exactly where an item is. In-store picking is typically 1.5 to 2 times more expensive on a per-pick basis than at distribution and fulfillment centers, says McKinsey.
In December, American Eagle began deploying a combination of sensors and cameras in the ceiling at 10 of its stores, in partnership with a tech startup called Radar, which tracks RFID tags affixed to each piece of clothing and communicates their whereabouts via radio frequency. If it works as expected, the retailer plans to roll it out at all of its stores over the course of about a year.
"This tech provides omniscience for retailers," says Spencer Hewett, founder and CEO of Radar, which has raised $30 million from retailers including American Eagle, Gap and Founders Fund. Gap is also exploring use of the technology.
Once heralded as a game-changer for retailers, RFID has been slow to catch on, with failed attempts from retailers like Walmart and JCPenney. Today, only about 26% of the world's apparel retailers use RFID, according to IDTechEx.
Still, the technology could have new appeal as retailers pay more attention to in-stock levels and costs have decreased, with a tag that used to cost $1 now running three to five cents. Sales of RFID technology are up double digits in the last three or four years as retailers like Nike, Lululemon and H&M have rolled out the technology for hundreds of millions of items, says Tom Bianculli, chief technology officer at Zebra Technologies, a publicly traded company that's the largest provider of RFID technology.
"Pretty much every pure-play apparel retailer is looking at RFID in some form or fashion," says Bianculli.
Lululemon now tags all of its inventory, giving it a bird's eye view that allowed it to ship online orders from stores even when they were closed during the early days of the pandemic because it could "access product at any point across our network," said CEO Calvin McDonald in a 2020 earnings call. Macy's has tagged 100 million items, which has proved "ever more critical with the shift to omni-channel," chief supply-chain officer Dennis Mullahy said in an email.
Retailers are also experimenting with artificial intelligence. Last year, Sam's Club began testing robots from Brain Corp., whose floor-scrubbing machines have been newly equipped to collect information about inventory while they roam the aisles. "Now it can walk and chew gum," says Josh Baylin, Brain Corp.'s vice president of product. The company is also marketing the new feature to existing customers like Walmart, Kroger and Menards, which are already using the robots for cleaning across their entire store fleets.
Trax, a Softbank-backed company that uses a combination of robots and shelf and ceiling cameras to monitor inventory levels, recently began touting its ability to "make online shopping better for all by linking your site to your shelf." It's targeting grocery stores, which have struggled to limit substitutions and out-of-stock items amid a boom in online orders. For instance, if a shopper wants Cholula chili garlic hot sauce, a retailer using the company's software will be able to tell them whether it's available with certainty upfront, says chief revenue officer David Gottlieb, instead of sticking them with a bottle of the regular flavor.
San Francisco-based Focal Systems, which raised $30 million this month, has deployed 40,000 shelf cameras at retailers like Walmart Canada and Wakefern, which owns ShopRite, Fairway and several other grocers, up from 10,000 a year ago. It will install another 200,000 cameras this year, it says.
Cost and ease of use remain issues. Macy's intended to have RFID tags on all of its merchandise by 2017, but its suppliers have been slower than expected to act and the retailer has yet to meet that goal. Walmart ended its relationship with Bossa Nova in 2020, whose six-foot-tall robots had been deployed in about 500 stores to roam the aisles and track inventory. The retailer reportedly decided that the job might be better executed by regular old-fashioned human employees.