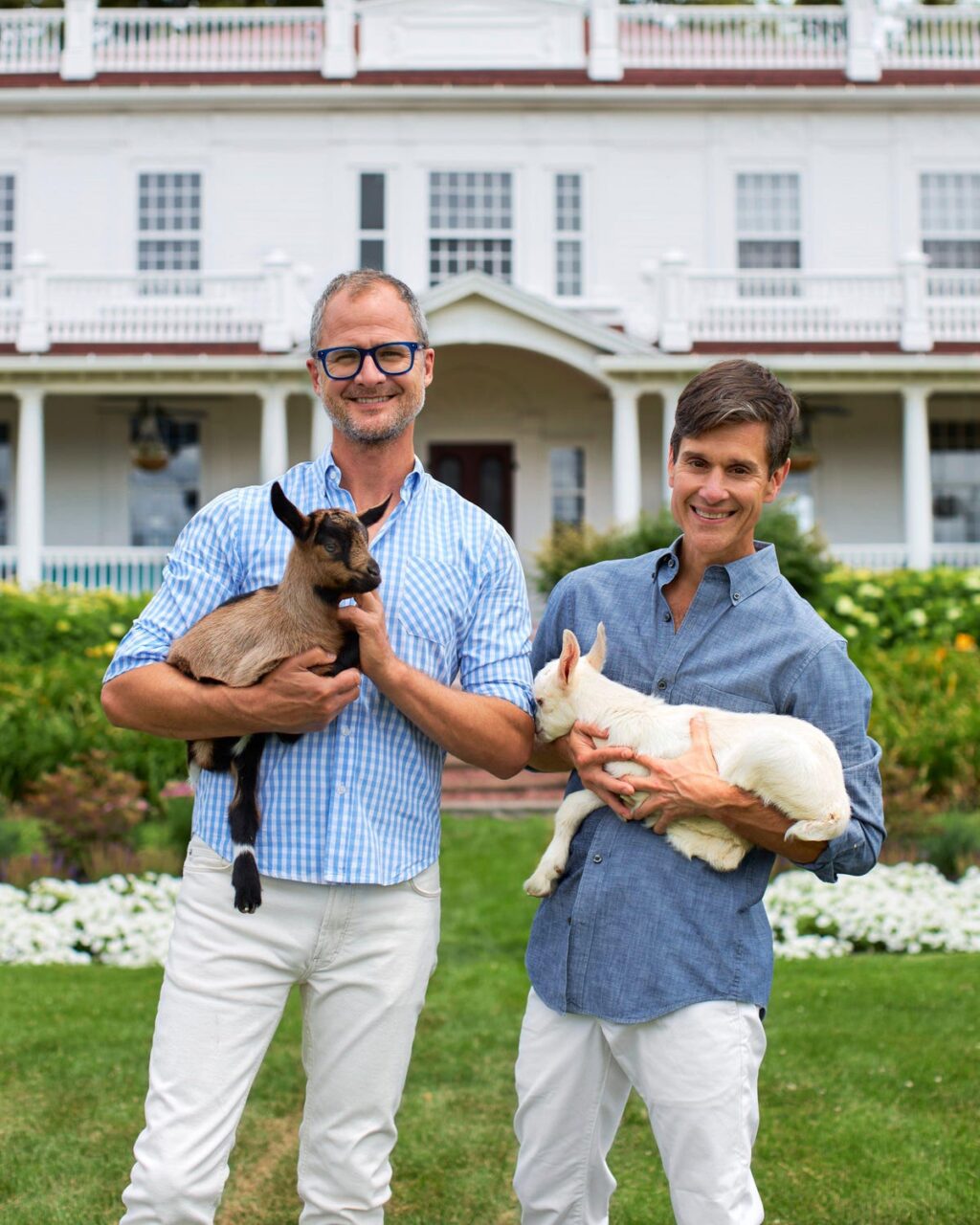 Natural Beauty Beekman 1802 Of TV Shopping Fame Gets Equity Funding To Propel Growth Globally
Beauty-wellness brand Beekman 1802 started with an historic upstate New York farm, 100 goats and a pair of accomplished and highly successful executives who found themselves out of jobs when the 2008 Great Recession hit.
Not about to lose the farm, Dr. Brent Ridge, who had worked as healthy living vice president for Martha Steward Living Omnimedia, and Josh Kilmer-Purcell, who was creative director at SS+K ad agency, looked for a way to make the farm self-sustaining and hit upon goat milk soap as the answer.
With the help of their neighbors, they learned how to make goat milk soap, which Dr. Ridge's medical training taught him was a natural, healthy, pH-balanced complement for skin. Their neighbors also helped them make and package it, which Kilmer-Purcell, with his ad agency experience, knew how to sell.
Success followed success leading to Beekman 1802 being the number one beauty brand on HSN, among the top five brands at QVC QVCA , and the first microbiome brand in Ulta where it takes center stage at over 500 stores, plus it's carried by some 1,000 independent retailers. On top of that, it logged the highest sales event its first hour-long livestream presentation on Livescale.
All along, Dr. Ridge and Kilmer-Purcell were proud to say their enterprise was bootstrapped every step of the way, even when they acquired their manufacturing company STA Elements.
At the time, Dr. Ridge told me, "We remain a company that is not leveraged and beholden to private equity. It keeps us nimble. And we don't have to make the compromises that private equity investors often require."
That, however, has just changed as Beekman 1802 accepted $92 million in equity investment led by Eurazeo, a global investment group, along with Cohesive Capital Partners and the Cherng family trust.
Not about to fall victim to the compromises of the typical equity deal, the couple, who are now married, recruited the advice of industry insider and former Shiseido CEO Marc Rey to help them take Beekman 1802 to the next level.
"It was a big process and took us about a year," Dr. Ridge explains. "We are now competing against the biggest players in the industry, the L'Oreals and Estee Lauders EL of the world . We really needed help to have the marketing and digital capabilities to compete at that level."
The couple's razor-sharp business acumen – Glossy reports they set an early goal of making $100 million in sales by 2021 – led Eurazeo's managing director Adrianne Shapira to predict, "The next unicorn is going to be a goat."
Having been with Goldman Sachs GS for 13 years, David Yurman for four and now on the board of Kohl's KSS , Gilt.com and Nest Fragrances, Shapira fell in love with the brand and the boys first, but she didn't let emotion guide her decision to commit Eurazeo funds to the deal.
She explains that Eurazeo, with $30.5 billion under management in 450 companies, puts all prospects through a brand scorecard, including category, channel and geographic potential, along with analysis of company financials and team makeup. Beekman 1802 checked all the boxes.
"We provide value-added capital. We are very focused on finding brands that win the consumers' hearts. We're always looking for that special something, a sparkle that strikes a chord with consumers. Beekman 1802 has all of that, plus a vision and purpose," Shapira explains. She will also take a seat on the company's board.
The brand vision instilled from the very beginning is kindness. "We've always been about treating your skin in a kind way, treating the earth in a kind way and treating each other in a kind way," Dr. Ridge affirms.
That message resonated with beauty-insider Rey who saw Beekman 1802 as a brand ready to explode onto a bigger stage.
"So many beauty brands are artificial marketing creations. Beekman is a very strong brand with a sense of purpose and a point of view, then it has great product. I see tremendous potential for the brand in other countries and it is a brand that appeals to both men and women. From a business standpoint, the sky's the limit," he says, as he joins the company as chairman.
One thing for sure is that nobody is going to mess with Beekman 1802's special sauce. "What Brent and Josh have done is unique," Shapira says. "They and their brand are genuine, authentic and real. There's real science benefit and efficacy in the products. It's simple, straightforward with thoughtfulness, attention to detail and inclusivity. It has a very broad reach that excites us all."
The equity investment will be funneled into expanding Beekman's reach across channels and across the globe. "It is essential when you're competing against bigger players to be front of mind through marketing and brand awareness," shares Kilmer-Purcell. "The bulk of the investment will be in building out the marketing and digital teams to make us competitive."
And to Rey's point about many beauty brands being artificial marketing creations, Dr. Ridge and Kilmer-Purcell are not about to let that happen to Beekman 1802. "There has been a lot beauty brand launches in the last couple of years," Dr. Ridge says. "So many of those brands are what we call 'boardroom brands,' where people sit around the table and say, 'let's make our brand about this.'"
"We have always been different from the beginning in the story of our origin to the ability to tell our story. That makes people who come into the brand want to tell our story too. Both Adrianne and Marc see the potential in that," he adds.
Its from-the-farm, friend-get-a-friend style of marketing is ready to reach across the globe. Having already introduced Beekman to Australian and U.K. audiences on TV shopping, the company's market research identifies greater opportunities globally.
"Our brand value of kindness and clinical product kindness resonates across Anglo and Asian markets and we're ready to go with that," Dr. Ridge asserts.
What got Beekman 1802 here is going to get them there. "We started out with just our little shop in Sharon Springs, NY and then branched out. We built our brand neighbor-by-neighbor. We will continue to do just that but on a bigger, global scale." Dr. Ridge concludes.