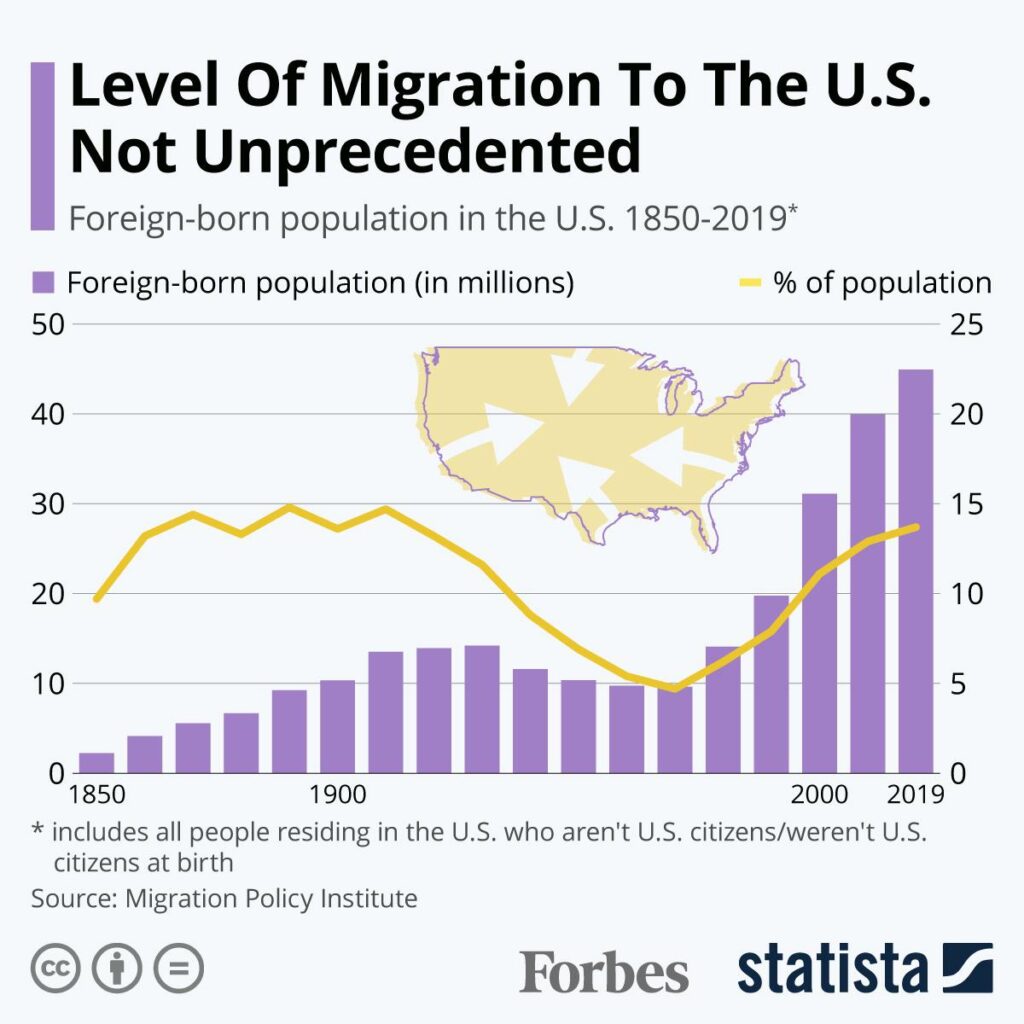 Level Of Migration To U.S. Not Unprecedented — Even After Push Proposed By Chamber Of Commerce [Infographic]
The appeal by U.S. Chamber of Commerce CEO Suzanne Clark was simple. "We need more workers", she told CNN on Tuesday. As the U.S. economy is struggling with staff shortages and record resignations, Clark's appeal to double legal immigration to the U.S. is still highly controversial.
Data aggregated by the Migration Policy Institute shows that the presence of foreign-born populations in the U.S. has been increasing for many decades, majorly propping up U.S. population growth during a time when aging populations are a serious struggle for developed economies. While the number of immigrants in the U.S. as well as their share of the population has been rising, the level of the foreign-born population is not unprecedented.
As of 2019, the latest year available through U.S. Census data, 13.7% of the U.S. population was foreign-born, including temporary and permanent residents, naturalized citizens and undocumented immigrants. Throughout the late 19th and early 20th centuries, the foreign-born population of the U.S. had been higher in relative terms, approaching 15% on several occasions, before reaching a low of just 4.7% in 1970.
Most recently, the rise in immigration has been slowing, however. Clark's idea sounds less drastic when considering that U.S. net immigration (the number of those arriving to live in the country legally minus those leaving) was reduced to just 247,000 people between mid-2020 and mid-2021, down from around 600,000 annually before the start of the pandemic. Even when doubling that pre-pandemic number, it would only raise the share of the U.S. foreign-born population by around 0.2 percent annually.
Additionally, in the years before the pandemic, U.S. immigration already decreased following changes to the immigration system during the Trump presidency — the decade-high for net immigration actually stood at around one million people between mid-2015 and mid-2016, according to the Census Bureau.
Clark said in her interview that alleviating the worker shortage would also help ease other economic problems the U.S. is struggling with in the coronavirus pandemic, like inflation. She called for immigration on all skill levels and highlighted the plight of industries that rely on imported labor especially heavy, like agriculture, food processing and food service.
While as recently as 2011, U.S. net births (births minus deaths) were still responsible for more than two thirds of U.S. population growth opposite immigration, that number had decreased to around 50% by the end of the decade, again highlighting the need for increased immigration so urgently felt by the business community.
—
Charted by Statista