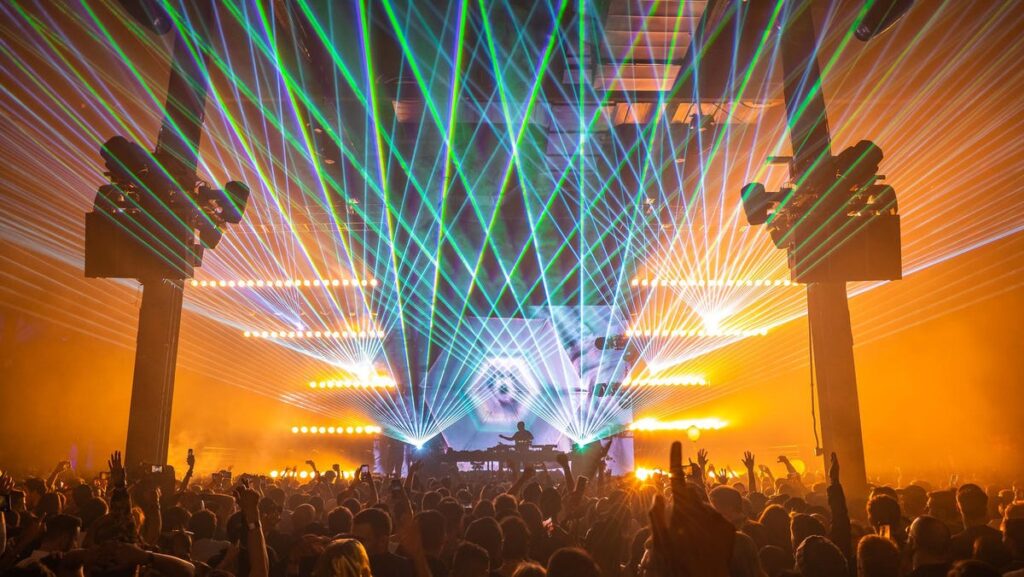 Inside Avant Gardner: A Multi-Faceted New York City Venue Boasting A 27-Hour New Year's Eve Event
When looking for a concert, Avant Gardner, one of New York City's premiere venues, may be on your list. The acclaimed 80,000 square-foot site is home to The Brooklyn Mirage, The Great Hall, The King's Hall and The Lost Circus, allowing the renowned venue to host multiple shows in one night. Avant Gardner, which is located in East Williamsburg's industrial district, boasts a KV2 sound system, three-dimensional video projection mapping technology, laser displays and pyrotechnic capabilities. Indeed, the venue is deserving of its 2019 nomination for Best Club in the International Dance Music Awards.
The indoor halls prove to be aesthetically diverse, with each offering its own vibe—a warehouse atmosphere in The Great Hall, a smaller club feel in The King's Hall and, as its name suggests, a carnival theme for The Lost Circus. The outdoor portion, The Brooklyn Mirage, transports guests into another world that's complete with palm trees and an atmosphere reminiscent of Ibiza. The Brooklyn Mirage also features sweeping views of Manhattan that stuns guests.
Since reopening it's doors in July 2021, Avant Gardner impresses once again with its star-studded lineups. This year's headliners include deadmau5, Christina Aguilera, Porter Robinson, Skrillex, Tycho, Louis The Child, Lane 8 and Zeds Dead, along with showcases from Afterlife, Anjunadeep, Higher Ground, Paradise and Cityfox's Regenerate, Transcend and Halloween shows.
Here, Billy Bildstein—founder, owner and chief creative officer of Avant Gardner, The Brooklyn Mirage and Cityfox—shares how the venue navigated the pandemic, the story behind how The Brooklyn Mirage is designed after a Wu Tang Clan music video, the upcoming Cityfox 27-hour marathon event and more.
Lisa Kocay: Avant Gardner features three spaces across the premises. How is the venue able to host so many shows in one evening?
Billy Bildstein: "Avant Gardner spans a full city block and is designed modularly, so we can operate the spaces independently, together as a multi-room venue takeover or what we like to call a 'mini-festival experience.'
"Thanks to the space, but more so thanks to the team, we're adept at running multiple events simultaneously. We have an incredibly skilled, veteran team of managers and core staff who work here every day. Then, as our schedule grows, we have a scalable, part-time team of experts on break from tours and festivals, as well as packs of weekend warriors who love the music and want to lend a hand."
Kocay: Is it true that the Brooklyn Mirage's design was inspired from a Wu Tang Clan music video?
Bildstein: "Yes. In a former life I was part of a hip hop group as a rapper, and the Wu Tang Clan released an all-time favorite music video of mine, which I re-discovered in 2015. The video was Gravel Pit and its prehistoric 'amphitheater' design inspired me. The final scene zooms out of the pit and you suddenly realize there is something 'bigger' happening in the outside world of it—you can see buildings that resemble parts of a city. I thought something like that in the industrial part of East Williamsburg could work well, where you kind of forget where you are once you're inside, time almost standing still, but outside of it, or in our case once you're on the top levels of the Mirage, you realize that you're in the middle of New York City with perfect Manhattan skyline views. Tiers of platforms and people dancing within these levels of the pit was another inspiration for our multi-level venue design. We combined that base concept with the design and style direction of a timeless temple, and the Mirage was born."
Kocay: How did Avant Gardner navigate the pandemic?
Bildstein: "We maintained a core staff of 10 managers and staff, who all demonstrated agility in taking on new skills as we planned the way forward. We navigated difficult conversations with our landlord, vendors, artists and agents. We worked with dozens of promoters and venue owners globally through industry groups to collaborate on solutions for the future. We hustled, networked and created new strategic partnerships. But through this we again demonstrated our resilience, as we have had to come back from adversity before."
Kocay: What were some of the biggest hurdles?
Bildstein: "The inability to build a meaningful timeline made things rough. We employ over 350 people and like so many in our business, I spent many sleepless nights figuring out how to protect as many jobs as possible while simultaneously trying to keep the business going and a [to be determined] reopening on track. The team had to continually modify strategies to sync with frequently shifting local and state requirements. Postponing over 200 shows multiple times was a very complicated and difficult task as well, but our programming team did an amazing job and we found a way to follow through with almost all of these shows."
Kocay: Were there any positives that came out of the experience?
Bildstein: "Our connection with the local community became much richer—we're incredibly thankful for the relationships we built and the good work we did.
"In partnership with local assemblywoman Maritza Davila's office, we provided space and support for World Central Kitchen to operate onsite. That effort sent over 140,000 produce boxes to food insecure families throughout the city.
"Also, some of our team members were active in last summer's [Black Lives Matter] protests and organized and delivered beverages to local rallying points. I was really moved and inspired by our people and their commitment. Many of them were furloughed, but they didn't let it get them down. Despite the fact that there wasn't work available at that time, they were positive and constructive."
Kocay: What are some of your favorite shows over this past year?
Bildstein: "I'm particularly proud of the increasing breadth of our offering. Along these lines, the stand out for me personally has been our re-opening weekend with Meduza on Thursday, Rezz and Cityfox Regenerate on Friday and Saturday, followed by two Black Coffee shows in a row. All of these shows were filled with so much energy and positive vibes, it was great to not only be part of the re-opening momentum but bringing the first large scale open-air events back to New York this year made it a really special weekend.
"Chris Lake, Vintage Culture, Nora En Pure and Diplo, to name a few, all had amazing showcases in the Mirage—the energy was just at a peak level non-stop. All Day I Dream reached new heights. Elrow was pure insanity. You could feel how positive and how important entertainment, live music and nightlife is for our lives. There were many moments in our re-opening months which will be great memories forever.
Kocay: The Cityfox 27 hour New Year's Eve and New Year's Day event is coming up. How was the lineup curated and how did the 27 hour idea come about?
Bildstein: "The first time we hosted The Cityfox Odyssey, we wanted to program a night-into-day-into-night experience, something you typically know or heard of happening in Berlin or London. We got inspired by the distance of a marathon, which is 26.2 miles, translated it into time and rounded it up. Here you go, 27 hours.
"The key to the lineup strategy are extended sets as usually with shorter event times the max amount of time to be allocated to one headliner is two to three hours, and for support acts one and a half to two hours. In our first two editions of The Cityfox Odyssey we tried to allocate at least three hours to each artist and in most cases four hours or more. The fans love to hear their favorite artists play these longer sets and show a wider range rather than just hearing the most actual or trendy playlist. For this year's edition, we're mixing it up further and we're presenting something we never had before at a Cityfox show or at any show we ever produced at our venues: a super extended 12 hour set. We're also very excited about Rufus Du Sol's extended DJ set. While they're quickly becoming the biggest electronic artist on the planet as a live band, they're also amazingly talented deejays.
Kocay: What are some upcoming shows in 2022 that you're excited about?
Bildstein: "We're particularly excited about all of the artists who have not yet played the venue. Bob Moses live. David Guetta. Disclosure live. Others who stretch us in different musical directions like Hot Chip and the insanely talented instrumentalist Tom Misch. And other acts like Sofi Tukker, who have played indoors but are making their first Mirage appearance. And finally, after postponing it multiple times, we welcome Carl Cox to take over the full venue with his curated techno line-up in March. There are many more and we're starting to roll them out very soon."
Kocay: What makes Avant Gardner unique from other venues?
Bildstein: "Avant Gardner is designed for immersive experiences, which we believe is the future of live music entertainment. Artists and experiential brands seek rich, flexible environments through which they can connect to audiences on a deeper level.
"In addition, the spaces are constantly changing and intentionally evolving. The goal is for the venue to look and feel different every time you experience it, so we tweak elements all of the time."
Kocay: Is there anything else I should know?
Bildstein: "We are creating and curating some new event brands and concepts. The objective here is to add depth to our music experience offerings, to provide our production and programming teams with a broader creative palette and to engage with wider audiences. We're really excited about this new pillar of activity. That said, we don't want to hype it too much too early, so let's just say that people should stay tuned."