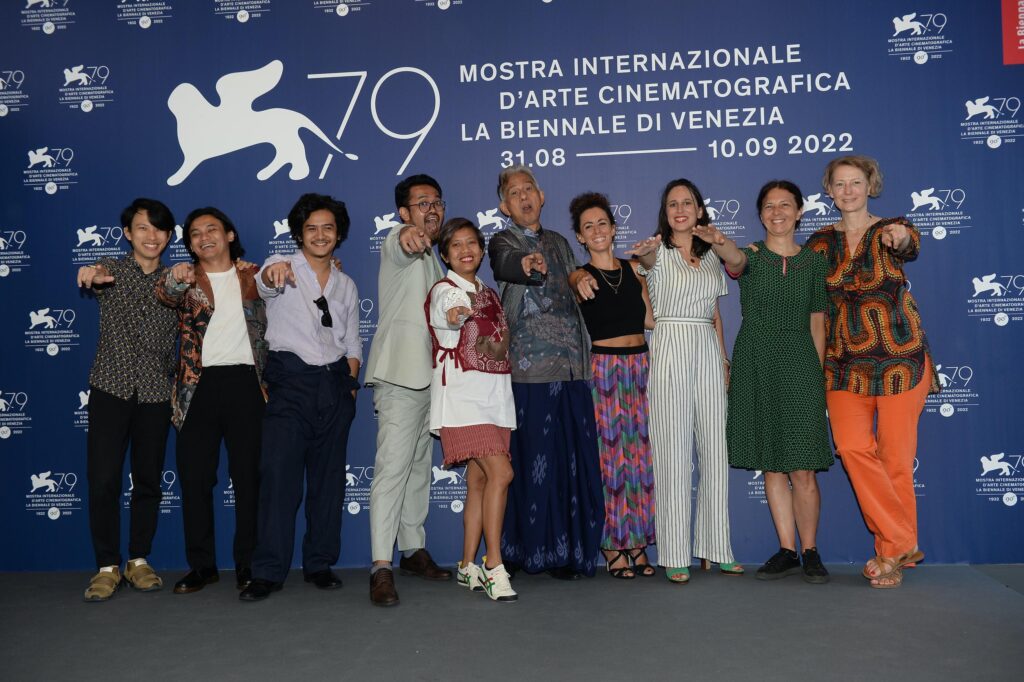 How Indonesian Filmmaker Makbul Mubarak Made An Emphatic Debut Film With 'Autobiography'
Director Makbul Mubarak is off to a dazzling start with his debut feature, Autobiography, after making a switch from a career in film criticism and journalism. The film is on a solid festival run, after receiving its world premiere at the Venice International Film Festival (where it won the FIPRESCI critics' prize for the Orizzonti section) and a North American premiere in Toronto. In October, the film will travel to the BFI London Film Festival and the Busan International Film Festival.
"We went straight to the premiere and were not ready for such a warm response," Mubarak says about the Venice world premiere. "People looked like they really enjoyed the film. They stayed for the Q&A session, seemed very curious about the film and it's a good chance for us to invite them to know more." The world premiere was an immensely emotional moment for the Autobiography team. "One of our actors has been acting for 40 years and he came to me [after the premiere] and said, 'Maybe this is what those 40 years were all about.'"
Mubarak started writing the screenplay for Autobiography in 2016 and producer Yulia Evina Bhara came onboard a year later. The project made its rounds on the international circuit of film incubators and workshops like the Torino Film Lab, SEAFIC in Thailand and the Southeast Asian Film Lab in Singapore. Starring Kevin Ardilova and Arswendy Bening Swara, Autobiography's co-production countries include Indonesia, France, Germany, Poland, Singapore, the Philippines and Qatar.
With Covid-19 restrictions, the shoot slated for 2020 was postponed by a year. "It gave us more time to prepare. We used the time for rehearsals and scouted for better locations," Mubarak shared. "I think it's a blessing in disguise."
Set in a rural Indonesian town, Autobiography tells the story of Rakib, a housekeeper in a mansion belonging to Purna, a retired general whose family Rakib's clan has served for centuries. Rakib's father is in prison while his brother is abroad for work, leaving just Rakib and Purna in each other's company.
"It's very common in Indonesia for powerful people [to have housekeepers] because they have a lot of houses and need someone to take care of them. There is a concept of loyalty because this powerful family will have a subordinate family who works for them through generations," Mubarak explains. "There's no contract because it's a contract of blood. The family will send the children [of the employed family] to school and take care of them, in return for the work. It's actually a very feudal structure. It still exists and I find this relationship very fascinating, in talking about power gaps and hierarchies in our society."
For Mubarak, Autobiography is also a radically historical project that examines the cultural and emotional trauma inflicted by Suharto's dictatorship. "I was eight years old when the dictatorship collapsed but somehow I feel that the structures, the atmosphere, the power and the hierarchy are still the same," Mubarak says. "It's an unresolved trauma. We can still see the wound. There was no resolution. That's why I think artists kept coming back to this period because there are so many stories to tell."
In writing and making the film, Mubarak drew from his moral struggles with his father's past job as a civil servant under Suharto's regime. These ethical questions about complicity, loyalty and justice surface through Rakib's position as an employee in Purna's mansion.
"Rakib bears not only the burden of personal guilt, but also the burden of history. He becomes the monster that he [had previously] resisted," Mubarak shares. "If you go to museums in Indonesia, they don't exhibit that period. There's this blank space in history. That's why for us, art is the museum. It fills the blank space so that we have some tools to remember with. It's a good way of dealing with the trauma, especially when you can feel that the government is trying to control how you remember."
Mubarak received his training at the School of Film, TV and Multimedia at the Korea National University of Arts in 2014. "Korea was nice because they're very disciplined and it helped me to become more systematic," Mubarak says. "For screenwriting, I learned about being systematic about what you want to say. You might want to say a lot of things, but people don't need to hear all of them."