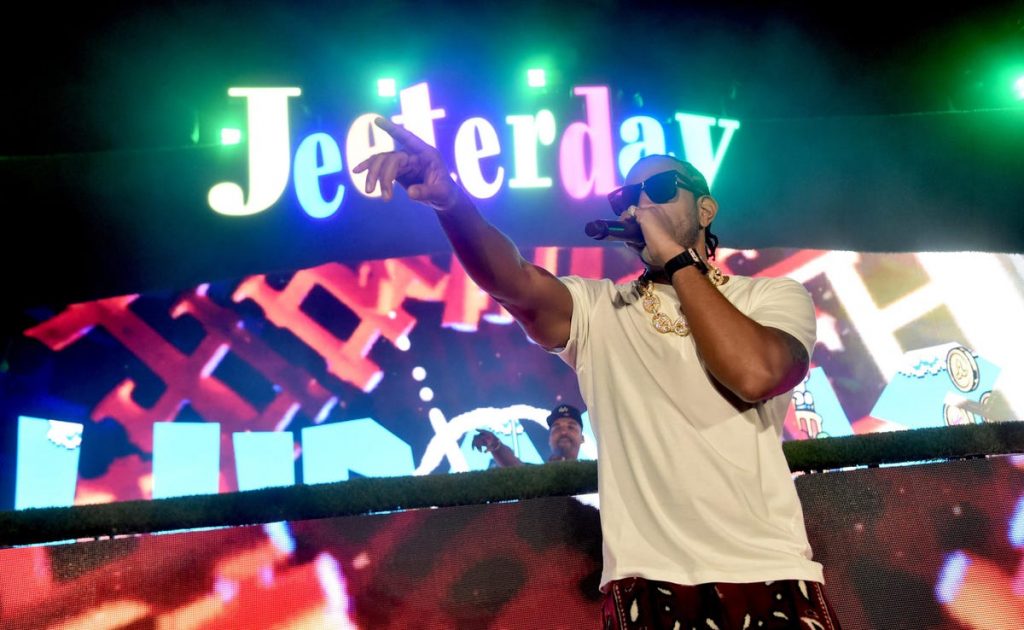 Hollywood, Music And Sports Stars Unite To Celebrate The Growing Cannabis Industry On 'Jeeter Day'
Some of the biggest movie stars, music artists and professional athletes assembled over the weekend in Los Angeles, alongside other passionate public supporters, with one happy purpose in mind – to celebrate the growing cannabis industry and to unapologetically live the high life, puns intended.
This past Saturday marked Jeeter Day, a special holiday recognizing the leading pre-roll cannabis company with a private outdoor event that consisted of video game tournaments, an impressive light show and live music.
"Jeeter Day overall is to give back to the fans and the Jeeter community," Lukasz Tracz, Co-Founder and Co-CEO (with Sebastian Solano) at Jeeter, shared with me at Forbes. "The whole idea formed from our customers that are so loyal to us. What can we do to give back to them? Jeeter Day is literally a national holiday for the customers and all the people that use Jeeter."
In America today, 18 states have passed legislation legalizing the recreational use of marijuana, while medicinal cannabis use is legalized in 37 states, a number that is expected to widen. When I asked Tracz what it means to him to see an ongoing surge in legalization across the nation, he replied, "About time. That's all I got to say. About time. When I was 17, I was selling weed and it was illegal and I got in trouble. Now to be able to do it legally and to see the progression of it. People use it as medicine. It's definitely just cool to see culture and progression overall in the cannabis industry. It's good to see that people are starting to break the stigma and see cannabis as a normal thing."
During the vaccination required Jeeter Day event, notable faces showed up in support, including Dwyane Wade, Gabrielle Union, Demi Lovato and an electrifying performance from rapper Ludacris in front of an energized crowd responsible for creating a collective haze of smoke from the Jeeter products into the night sky.
When I asked Tracz what it means to him to have these beloved individuals show up in support of their Jeeter brand, he responded, "We're very humble guys. To us, it's a community that loves Jeeters. We have a cool product and a cool brand and then it's cool to see that people that we grew up watching to actually be like Hey, I want to use your products."
One of the idolizing figures Tracz and his Jeeter team grew up watching was Ricky Williams, retired NFL running back and a vocal cannabis supporter in attendance for Jeeter Day. When I asked Williams why he showed up to the event and why he supports this particular company, he told me, "First of all to me, it's the best product out there on the market right now. When I go to my local dispensary, they know. I walk in and they pull out the Jeeter. And then when I came to find out that they [the Jeeter founders] are from South Florida and they're [Miami] Dolphins fans and I got to meet them, they just took it to the next level. Just really good people and beyond that, brilliant, creative businessmen and they've been an inspiration for me coming into this space."
Regarding Hollywood, music and sports stars embracing the cannabis scene more and more lately, Williams went on to say, "I think it's beautiful. I think the battle that we are all fighting to make this thing mainstream is really going to be led by mainstream institutions really starting to take cannabis seriously."
While Ludacris rapped to many of his cannabis-friendly hit songs like "Blueberry Yum Yum" and "Rollout" in front of a sea of fans singing along to every one of his lyrics, other music artists including Louis Mario Freese (also known as B-Real) from the popular '90s hip-hop group Cypress Hill watched in support of the live concert event.
When speaking about Jeeter and the significance of the Jeeter Day gathering, Freese told me, "I think it's a nice way to celebrate the cannabis culture and celebrate the new launch of their flavor drops. It's great because when you look at what we had maybe ten, twenty years ago, no one would ever have thought that this was possible, so it's great to see celebrations like this, events like this in cannabis."
Freese went on to say that he has seen more people and states becoming increasingly open to the use of cannabis products, a trend he only expects to continue, especially as more and more high-profile individuals express their enjoyment and support for legal marijuana use. "They're feeling a little bit more comfortable about coming out of the weed closet. You'll see more athletes, more entertainers of all sorts come out in support of cannabis as we navigate through this young industry."
Even though the business of cannabis has recently seen a lot of growth and fewer restrictions, Freese still believes that there is still a ways to go in reaching full legalization across the country, knowing the employment and taxing benefits that cannabis can have on an economy. "I think the future is bright but we have to educate more people. We need this to be federally legal and I see that happening because when you see the states that have put in the legalization into their state for recreational or medicinal, you see the growth economically in those places and it's undeniable. It's one of the best revenue streams out there. It's the cash crop as they've always said and it would be ridiculous not to implement legalization federally."
As the cannabis world looks toward even greener pastures with great hopes for the near future, Jeeter's Tracz wrapped up our conversation knowing what his company currently stands and where he looks for Jeeter to rise to in the next five years. "Well, Jeeter today is the number one pre-roll in the United States and in five years, I want Jeeter to be the number brand in the world."