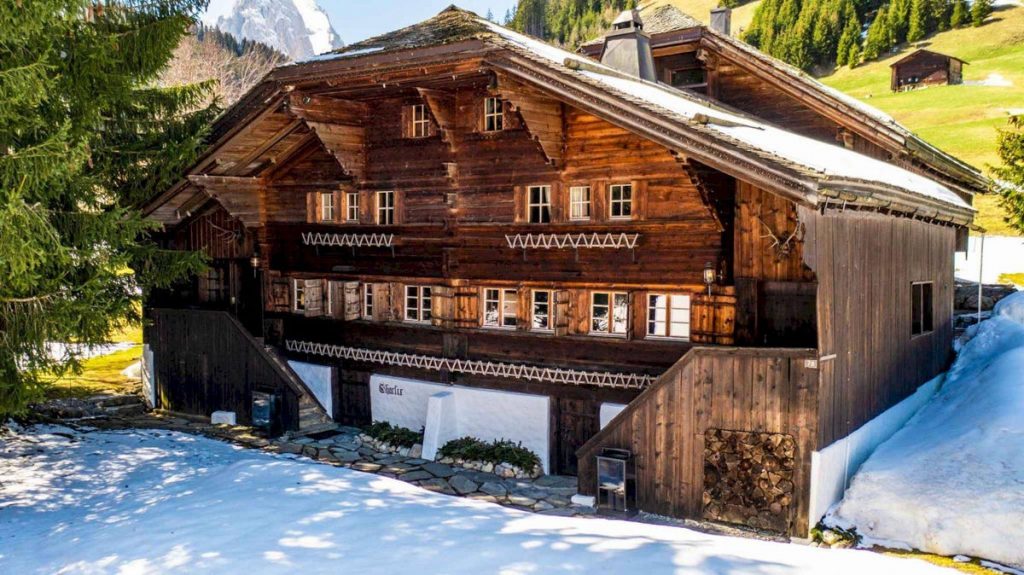 Four Centuries Later, This Ski-In Ski-Out Swiss Chalet Remains An Ideal Escape
Long before Gstaad, Switzerland, became a ski destination for celebrities, a Catholic notable fleeing religious persecution built a rural chalet on a sunny hillside.
Dating to 1607, the traditional dwelling is among the oldest chalets in the canton of Bern and the entire country. Surrounded by newer houses and skis slopes, with the Alps as a backdrop, Chalet Charlix is still an escape today – for families and vacationers.
The multilevel wood-clan home has the wide projecting gable roof, deep eaves, banks of casement windows and boxy shape associated with the Swiss Chalet style. Wood planks run horizontally on most of the front façade and vertically on the sides, giving the house a grounded appearance. The front-facing exposed rafter tails are carved.
Wood of varying patinas reflects the four-plus centuries of use and multiple renovation periods. Updated most recently in 1994 and 2003, the restored chalet retains much of its original character while including current conveniences.
The ground floor has two wood-lined reception rooms that share a double-sided glass-fronted fireplace that adds a touch of modernity to the rooms' otherwise timeless appearance. Wood walls, ceilings and floors continue in the dining room, where a bank of windows brings in natural light.
There's a wood-clad video lounge and a rustic-looking kitchen with open shelving, thick wooden ceiling beams and a farmhouse-style sink. A ski room, an en-suite staff bedroom and storage complete the floor.
The upstairs contains another living room and additional bedrooms including a primary suite with mountain views. The 650 square meters, or about 7,000 square feet of living space contains a total of nine bedrooms and six bathrooms. Wooden ladders access the uppermost bedrooms, which are set under eaves.
Several cellars, including a wine cellar, are located on the lower floor. A natural stone terrace faces south.
The ski-in/ski-out chalet is set on 2,240 meters, or about a half-acre, of land.
Aurore Lucido of FGP Swiss & Alps is the listing agent for the property. The price is available on request.
The resort town Gstaad, in the municipality of Saanen, is popular with A-listers and globetrotters. In addition to skiing, popular pursuits include ice skating, tennis and hiking. Fine dining, designer shops and art galleries are among other attractions.
Gstaad is about an hour and 40 minutes by train from Geneva's Cointrin International Airport.
---
FGP Swiss & Alps is a founding member of Forbes Global Properties, a consumer marketplace and membership network of elite brokerages selling the world's most luxurious homes.