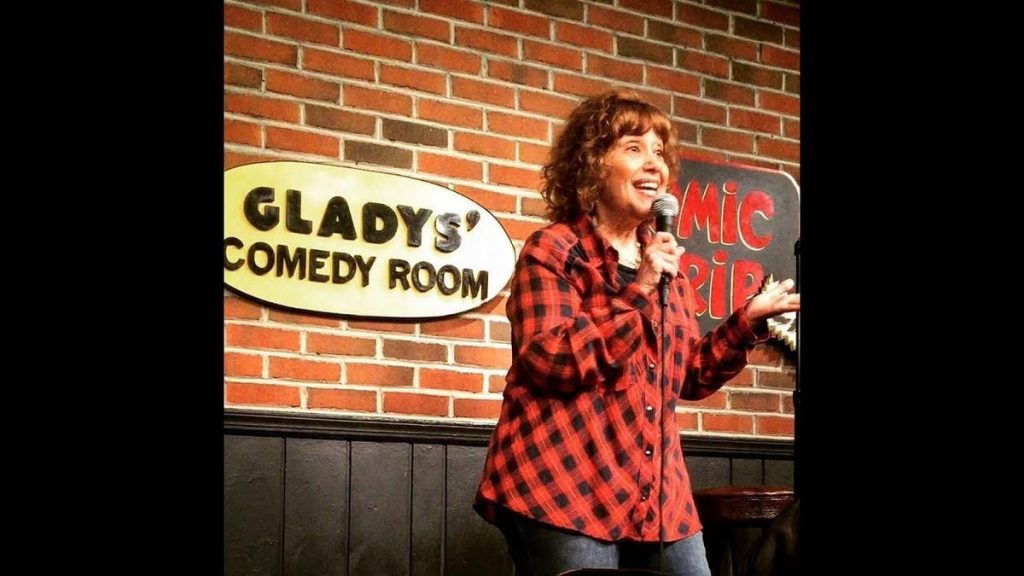 For Decades She Has Helped Nurture The Careers Of World-Famous Comics
Opportunities help shape who we are. As author F.E. Higgins wrote, "Every moment is an opportunity to change your future."
Gladys Simon understands that well. For more than three decades this New York City comedian and producer has been helping to nurture the careers of countless comics, including Jim Gaffigan, Zach Galifianakis and Darrell Hammond. Through her showcases and open mics, she has given comics the opportunity to ply their craft.
Long before comedy became a "middle class/college educated career option," as Gaffigan describes it, Simon found her bliss helping the scrappiest comics hone their skills.
"Back in the early 90s when I met Gladys, struggling comedians who couldn't get stage time at any of New York City clubs were from the edge of society and mostly people who couldn't afford therapy," shares Gaffigan who performed at Simon's open mics. "Gladys and her husband Bob served as almost foster parents for new and struggling comedians trying to find their way to the club scene. Before alternative rooms there was Gladys' room. Gladys and Bob provided community and warmth to struggling New York City comedians."
As Simon sees it, drive and commitment to your craft is paramount to success. "It is more important than talent." she says. As Simon explains, when a comedian finds their voice and their comedic truth, magic happens. Once a comedian discovers their personae and is comfortable talking about their own life on stage, that's key. The goal is to get comfortable and perform as much as possible.
"You can't think when you're on stage. The humor comes from your feelings and passion, not your words," says Simon who tries to teach her mentees everything she knows about the business and stresses that comics need to "cut the fat" out of their sets. "You need to rehearse your material thoroughly, but deliver it as if you are saying it for the first time."
Simon's adventure in comedy began when she saw Ray Romano perform at a New York comedy club. The experience inspired her to take a comedy class. As Simon explains, she bombed at her graduation show. Yet even though she got better and was asked to take her set on the road, she couldn't see herself in that life. "I don't drive," she says. "I hated being in cars and didn't want to put in the work to become a comedian."
Never wishing to leave New York City, she discovered her true passion. "I found that my gift was helping comics and figuring out how I could make help them find their voice and make them better." She found endless joy when she helped mentor a comic and they got more laughs. "I can't make comics stars, but I know I can help them get funnier," she says.
"What do you really want to do?" asked one comic after a show at The Comic Strip Live. Simon knew instantly. "I want to see my name in lights, and open my own comedy room," she shared. Since 1989 she has been hosting and emceeing comedy rooms throughout New York City.
Coldwaters, the seafood restaurant, was said to be the destination for hopeful new comedians looking for stage time. Darrell Hammond, Jim Gaffigan, Jeff Ross and Greg Giraldo performed at Simon's open mic there. She ultimately expanded to Hamburger Harry's Restaurant where she not only brought in known acts, she convinced her partners to also allow new comedians, like Melissa Rauch, the chance to perform their sets.
In 2004, after Hamburger Harry's was sold, Simon found a home at The Comic Strip Live and began hosting her Open Mic Development program and producing her Gladys Presents Showcases where Gaffigan and Hammond have performed. This September 12 at the Comic Strip Live, her Gladys Presents show features George Saltz who was the subject of the documentary Still Standing and turns 87 that day. Also performing is Vanessa Hollinshead, Natalie K. Levant, Vince August, Doug Adler, and Dan Naturman. "We have a lot of fun, says Simon.
Even during the pandemic, Simon has continued to host her beloved open mic and develop comedians. She took her stand up show at the Comic Strip Live online. Comedians from around the world have a place to work on material and get her feedback in a family-like setting.
The group ranges from 18 to 80. It has given countless comics a much-needed respite. They share how they look forward to the open mic each week and is an important part of their lives. As valuable it is for the comics, it's also priceless for Simon. "When I help a comic," she says, "it makes me feel alive."