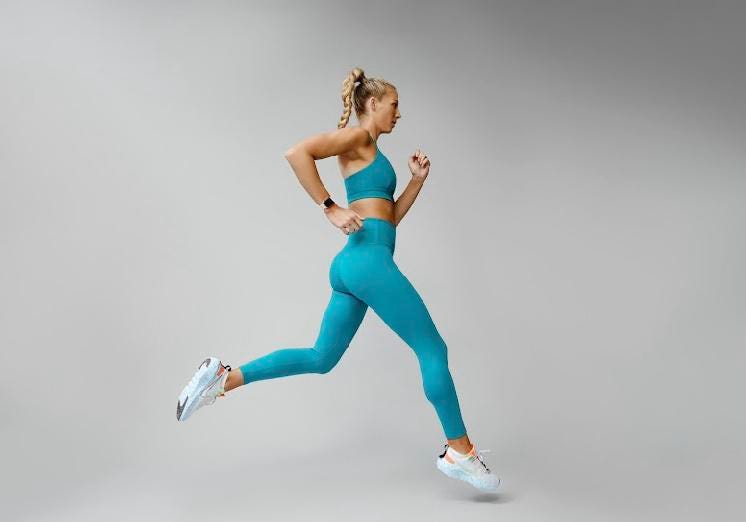 Fitness, Fashion And Community Converge At Performance Wear Retailer Carbon38
In the first episode of Apple TV's new show Physical, starring Rose Byrne, it's evident how fashion and workout wear converged since the fitness boom in the 1980s. Fast-forward to today, when wearing athleisure styles crept into some corporate work attires. No one was poised better to capitalize on this emerging trend of blurring the lines between street and gym wear than Carbon38 co-founder Katie Warner Johnson. The CEO blended her Harvard degree and fitness trainer skills to launch the premier luxury athletic multi-brand retailer with a mission to boost other female-led brands along the way.
Upon graduating with a BA in art history and architecture, Warner Johnson deferred a job offer from Deutsche Bank to continue her other passion, ballet. That dream was stalled due to several injuries, but rather than fall back on finance; she became a coveted fitness trainer in Los Angeles. "I was a fitness instructor and thus lived in spandex," says Warner Johnson of how the brand was hatched.
"I got to know cool, up and coming brands, the majority of which were run by women. I found these brands wanted to go after the major players in the activewear space, but rather than do that; my thought was to stitch together the micro-players and crowdsource our way to success." An invitation to the 2012 Women 2.0 startup conference weekend in San Francisco helped cement the idea.
The name sprang from the CEO's passion for the periodic table, and in 2014 the brand launched with five brands. "Carbon is one of the most abundant elements in our bodies, and it felt compelling for the business I was beginning to create," she explains. They have worked with over 260 brands to date, 75% of which are run or founded by women. "It is important to me to support fellow female leaders – Carbon38 exists because of them," asserts Warner Johnson.
The site carries Adidas by Stella McCartney, LoveShackFancy, Balmain, Reebok X Victoria Beckham and Sweaty Betty, among others. The looks promote a style that blends activewear's DNA with fashion ready-to-wear silhouettes, an empowering look for modern women.
The fitness pro dialed into her finance acumen culled from college experience, growing the company from $0 to over $50M, raising successful funding rounds, and hiring the right industry leaders to support the vision.
The fitness universe was a community long before social media and the internet was buzzing with them. It proved to be the retailer's first marketing vehicle, with Warner Johnson serving as the first brand ambassador. "I served as our first ambassador, wearing the newest styles on Carbon38 to my morning fitness classes. By the time I made it home from the studio, we had hit our daily sales goal." She credits the ambassadors with Carbon38's founding and success.
The company has a network of thousands of fitness instructors in 23 countries serving as 'evangelists for the brand,' as she puts it. "Today's consumers can spot a fake endorsement in one glance. When there is a genuine bond between brand and partner, consumers feel it, believe it, and buy into it. Cultivating an authentic ambassador network has been our mission at Carbon38."
Recently, the brand launched the 'At Our Core' campaign that highlights the female ambassadors' roles and social contributions globally. "These women are pillars of their community and the foundation of our company," she explains.
Like any start-up, Carbon38 was not without a learning curve, especially the uncanny luck of their crowd-sourced community-based success. "Knowing what I know now, I wouldn't have taken risks or backed our way into some of our craziest, biggest wins," she reveals. "That said, in the last year alone, Carbon38 has experienced some of its highest highs and lowest lows. My biggest learning has been 'you are never in control,' a terrifying and freeing realization," she continues of the critical business lessons.
As a fitness brand with a slew of instructor ambassadors, they were poised during the start of the pandemic to reach out to their community, providing classes to help retain some aspect of customarily scheduled lives. "Early in lockdown, we implemented "Work(out) From Home" – a 3x a day fitness class hosted on our Instagram featuring a vast array of instructors from our ambassador community."
The platform brought customers, brands, vendors, investors, teams and ambassadors together during the challenging time. "We still offer live weekend classes on our Instagram. The possibilities to connect with our larger community goes well beyond leggings."
For those on the East and West Coasts searching for an IRL Carbon38 experience, the brand currently has two physical locations, Palisades Park and Bridgehampton. Current investments are geared at not only carrying over 70 percent of female-led brands but investing in some acting both investor and incubator for those who may otherwise never receive capital and exposure to succeed at scale. Collaboration is also core to the brand, having forged an exclusive tennis-centric collection between Venus Williams and EleVen.
In 2015, the brand added their own branded line of workout wear which is exclusive to Carbon38. They take steps towards sustainability by using two fabrics in core goods, the Cloud and Diamond compression, made from recycled water bottles. Additionally, 100% of branded label poly bags are made from recycled plastics.
The road to sustainability is a journey not unlike founding a brand. Small steps and actions grow into bigger ideas and results. Warner Johnson is grateful for the opportunity, however self-created and wisdom gained along the way.
"Building something from scratch at my kitchen table to spending the last 20 months back at that table prepping the business for a new era and its next decade of success has been a gift," she reflects, adding, "Back to the learning that you are never in control. I plan to listen more closely to our customers, vendors, and teammates as the answer is always in the room."