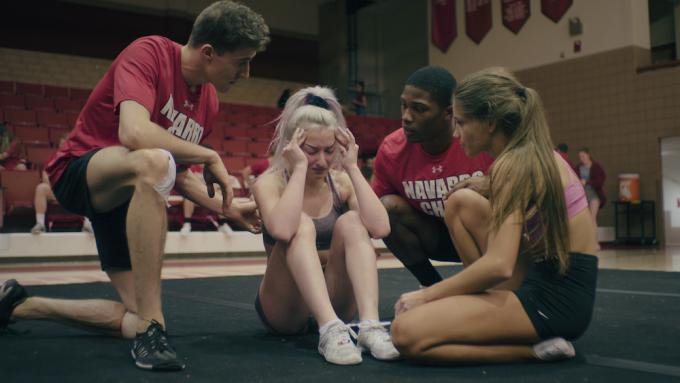 'Cheer' Season 2 Is Not For The Faint Of Heart
Cheer season 2 has currently rocketed up the charts to surpass Cobra Kai as the new #1 show on Netflix, though fans of the original may find a very, very different series this time around.
While the main takeaway of Cheer season 1, which followed Navarro's college's top notch team, was that cheer is very much a real, incredibly difficult, ultra-dangerous sport that anyone can appreciate, season 2 is a much more intense production due to real-world, non-cheer-based events.
This isn't to say Cheer season 2 is bad or not worth watching, but it is much, much heavier than season 1, and I might just offer that as a warning that this is not exactly the feel-good story of season 1, minus perhaps the very end when the ultimate winner is crowned.
Among the difficult storylines in season 2 (spoilers follow, I suppose):
Half the show essentially goes up in smoke when the Covid-19 pandemic sweeps the country in 2020 and shuts down all sporting events, cheer championships included. Obviously we all know how the pandemic affected each of us, but seeing it unfold on Cheer is somehow extra depressing. The entire season is trashed with just two weeks to go until Daytona, and that means many fan-favorite cheerleaders like Morgan and Lexi have an unceremonious end to their final season.
There is ongoing drama between La'Darius, Monica and the entire team this season, as when they return after the pandemic, he quits the team and gets into an extremely public, cringey social media feud that is pretty awful to see unfold, especially given his and Monica's past relationship. The exact details of this are kind of murky and it is somewhat resolved by the very end, but it's not great to watch it unfold onscreen.
Of course, the absolutely worst event of all of Cheer season 2 is the Jerry Harris scandal, where the formerly beloved, hyper-energetic cheerleader who became a national star after season 1 was arrested by the FBI on child pornography charges and soliciting sex from minors. The show devotes an entire episode to this which is brutal to watch, though I was inspired by the extreme courage of the twin victims that first came forward to report Jerry, who agree to appear on camera and tell their story directly to Cheer audiences. Just incredibly brave, but as I said, this entire episode is deeply disturbing and tough to watch.
One of the main differences this season of Cheer was the fact that the show focuses on both Navarro and their rivals, Trinity Valley, which was definitely a good call given that Trinity Valley ends up winning the championship this season, thanks mainly to a single mistake from a single Navarro flyer in the final. It's hard to watch the grief when Navarro loses, but certainly, the highlight of the season is seeing the hard-working, extremely talented TVCC team celebrate their win. Though again, Covid still dampens this, as they find out they won not on stage in front of fans and family, but jammed into a crowded hotel room for a "virtual" awards ceremony.
Cheer season 2 is certainly worth watching, just understand that it's a much, much different season than the first, and is not exactly going to be escapism, given the events that unfold. I have no doubt the show will return for season 3, and hopefully there will be fewer tragedies next time around.
Follow me on Twitter, YouTube, Facebook and Instagram. Subscribe to my free weekly content round-up newsletter, God Rolls.
Pick up my sci-fi novels the Herokiller series and The Earthborn Trilogy.