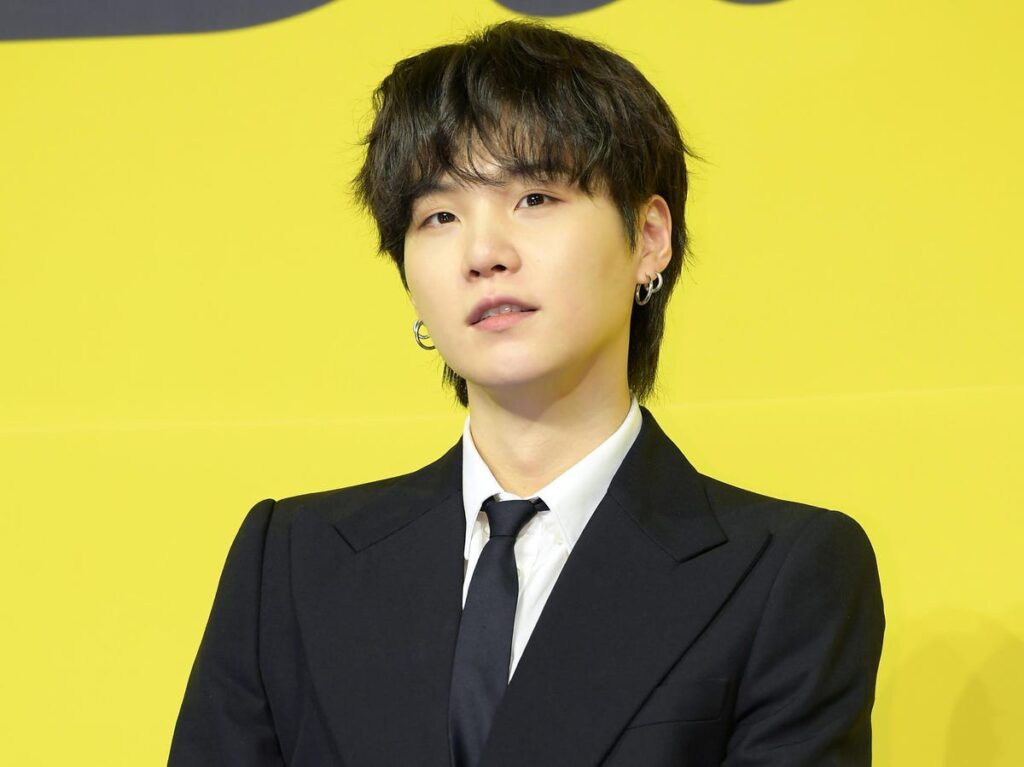 BTS Member Suga's Success On Billboard's Rap Charts Is Unparalleled And Unmatched
In the last chart week of 2021, BTS member Suga scored not just a big hit, but one that helped the musician further establish himself as not just a successful K-pop and pop musician, but a rapper as well. The hitmaker joined late hip-hop musician Juice WRLD on his promotional single "Girl of My Dreams," which quickly reached a number of rankings, including the Hot 100 and various rap and hip-hop only tallies.
The tune performed best on the Rap Digital Song Sales chart, the weekly ranking of the bestselling tracks in the U.S. that Billboard classifies specifically as rap. The cut was an instant leader, and its immediate success helped Suga show once again that he isn't just one of seven members of a successful band, but that he can create a hit all on his own.
Here are three ways Suga made history on the Rap Digital Song Sales chart when "Girl of My Dreams" arrived.
Fourth No. 1 Hit By A K-Pop Act
"Girl of My Dreams" debuted atop the Rap Digital Song Sales chart with ease, conquering the genre-only tally with a sizable first-week sales total. The tune became the first No. 1 for WRLD, but not for Suga (though it was his debut chart-topper under that name). The collaborative cut was also the fourth leader on the tally by a K-pop act (a musician known primarily for releasing music that can be called K-pop).
Before "Girl of My Dreams" hit No. 1, Psy's "Gangnam Style" and Lisa's "Money" also worked their way to the peak position.
MORE FROM FORBESBTS's Suga Returns To The Hot 100 For The Second Time As A Solo StarBy Hugh McIntyre
First K-Pop Act To Hit No. 1 More Than Once
The second tune by a K-pop artist to hit No. 1 on the Rap Digital Song Sales chart was Agust D's "Daechwita," which also debuted in first place on the tally in 2020. Agust D is the alter ego of Suga, and it's a name he uses when releasing his own music aside from BTS, at least some of the time. His cut launched in first place a little more than a year ago, and at the time he joined only Psy in that win.
Now, Suga is alone as the only K-pop artist to reach the throne more than once.
The Most Hits Among K-Pop Acts
With another win now included in his discography, Suga further his lead as the K-pop musician with the most hits on the Rap Digital Song Sales chart. Including "Girl of My Dreams," the South Korean superstar has now placed on the ranking of the bestselling rap cuts in America eight times, more than all other K-pop talents combined. In addition to his latest placement, he sent seven tracks from his solo mixtape D-2 (released under the name Agust D) to the tally, including the aforementioned "Daechwita."
MORE FROM FORBESBTS's Suga Is The First K-Pop Artist To Hit No. 1 On Billboard's R&B And Hip-Hop Sales ChartBy Hugh McIntyre