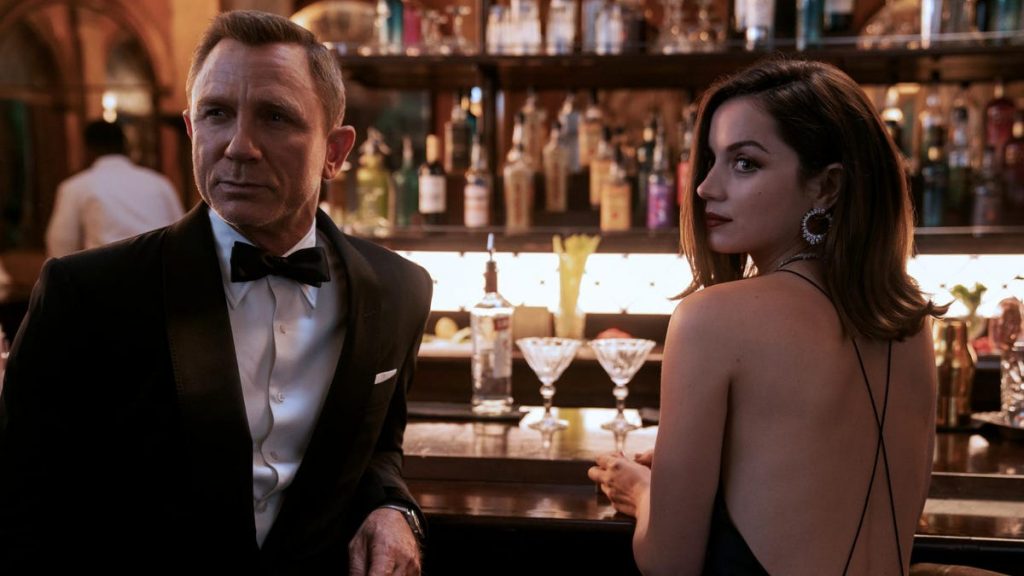 Box Office: 'No Time To Die' Nabs Big $119M Global Debut
Universal and MGM opened No Time to Die (review) in 54 overseas markets, in advance of its debut in North America (October 8) and China (October 29). The fifth and final Daniel Craig James Bond flick earned a rock-solid $119.1 million overseas, including $6.8 million in IMAX alone. That's the first pandemic-era MPA title to top $100 million in an overseas debut without China. It's also right on par (in market to market exchange rates) with Skyfall's overseas launch and down just 17% from Spectre. I was never expecting this one to approach Skyfall ($304 million domestic and $1.11 billion worldwide)-level grosses. Anything close to Casino Royale or Quantum of Solace (over/under $600 million), let alone Spectre ($200 million from a $70 million debut and $881 million worldwide) would be a victory for EON and friends.
No Time to Die has the advantage of being the first "not a comic book movie/not a horror movie/not a toon" tentpole to open in much of the world since F9 this past summer. That advantage, give or take Dune, should continue unabated until The Matrix Resurrections in late December. The reviews are generally positive (83% fresh and 7.5/10 on Rotten Tomatoes), while the 163-minute epic arguably delivers most of the 007 franchise tropes. It's better than Spectre, and even that all-time low was an unmitigated blockbuster right alongside The Hunger Games: Mockingjay part II ($655 million) and Star Wars: The Force Awakens ($2.068 billion). And after Venom's $86 million domestic debut, I'm expecting a No Time to Die domestic launch closer to Spectre ($70 million) than Die Another Day ($47 million).
MGM opened The Addams Family 2 in theaters and PVOD, a release strategy which will be offered for Paramount's Clifford The Big Red Dog on November 10. The animated sequel, starring Oscar Isaac, Charlize Theron and Chloe Grace Moretz, earned an $18 million opening weekend. Yes, that's way below its predecessor's $30 million opening weekend. Even in non-Covid circumstances, this was always going to see a comedown. The first toon earned $100 million domestic and $200 million worldwide on a $24 million budget, providing a rare all-around hit (outside of Bond and Creed) for MGM. But it wasn't exactly a beloved new classic, providing just enough surface-level entertainment for the kids and adults to justify a viewing for fans of the IP. It did qualify as a multi-generational nostalgia pitch.
Fans of all ages having discovered the brand at different entry points (the comic strip, the television show and/or the 1990's live-action movies) showing up for the first theatrical Addams Family offering since Addams Family Values in 1993. Like many animated franchises (LEGO Movie, Angry Birds, Secret Life of Pets, etc.), the first film earned four-quadrant interest while the sequel was seen as a "just for kids" affair. I'm told it's doing well on all relevant PVOD platforms. It's currently ranked at 42nd on Amazon (the 2019 toon is 25th) and 165th on Google while placing second on both Vudu and YouTube. A sequel was inevitable, as was a big drop from its predecessor. If it merely legs out like its predecessor, we can expect a $60 million domestic finish.
Likewise, Warner Bros.' The Many Saints of Newark is something of a multi-generational nostalgia play. Folks who watched David Chase's The Sopranos on HBO during the original run (1999-2007) and those who caught up with the show elsewhere over the last 14 years arguably had at least some curiosity about this Alan Taylor-directed prequel film. The picture, starring the late James Gandolfini's son as young Tony Soprano, earned decent reviews and a lot of media coverage. Cue a mere (but expected) $5 million domestic debut. Albeit, Covid or no, HBO Max or no, this one was always going to open more like The X-Files: I Want to Believe ($10 million in 2008) than The X-Files: Fight the Future ($30 million in 1998). Here's hoping Dune, King Richard and Matrix 4 end WB's 2021 on a high note.