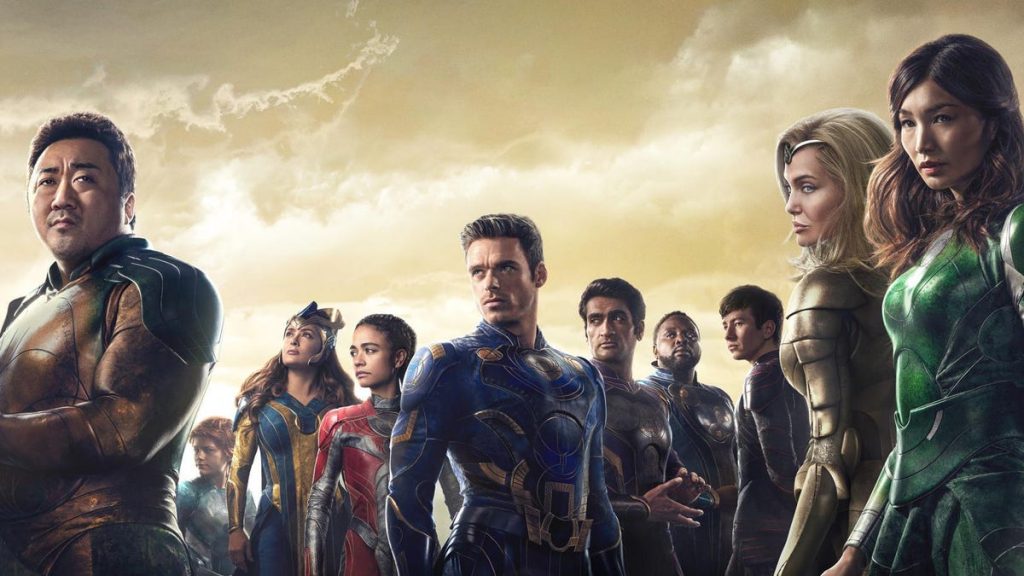 Box Office: Marvel's 'Eternals' Tops $300 Million Worldwide
Walt Disney is reporting that Marvel's Eternals has passed $300 million in worldwide box office revenue. That includes a $1.6 million Wednesday gross in North America and another $3.9 million overseas for a $5.5 million global single-day gross. That's obviously a 29/71 split, followed by a weekend with a 36/64 split, meaning that Eternals is performing better overseas in comparison to its (comparatively) soft domestic earnings. Its current $123.6 million 13-day domestic cume (just past Jungle Cruise and Free Guy, natch) and $176.4 million overseas total gives it $300 million on a 41/59 split. Regardless of whether it will make money in raw theatrical revenue, it may be the first MCU movie to be "rescued" by overseas box office. It's also a possible preview of how new MCU franchises may perform going forward.
For all the online handwringing about how an emphasis on overseas box office leads to blander blockbusters and more vanilla franchise-friendly Hollywood flicks, this somewhat outside-the-box MCU flick is likely only to qualify as a hit with a face-saving over/under $435 million cume specifically if overseas audiences continue to show up in comparatively greater numbers. Likewise, we're only getting a sequel to Dennis Villeneuve's Dune part One because of the halfway decent (on a Covid curve, being generous) $262 million overseas cume, not its $93 million-and-counting domestic total. Chris Nolan's Interstellar ($189 million domestic but $122 million in China and $677 million worldwide in 2014) and Pixar's Coco ("just" $206 million domestic but $189 million in China and $800 million worldwide) are additional examples of high-end tentpoles that overperformed overseas.
But back to Chloe Zhao's Eternals, which may end up around $165-$175 million domestic and $425-$440 million worldwide. Its final domestic/overseas split won't be that much more or less skewed toward here or there than most MCU titles, especially when you remove China from the equation. However, it'll have a larger overseas-centric split than Black Widow ($184 million/$195 million) and Shang-Chi ($224 million/$206 million). If you remove Spider-Man: Far from Home's $199 million China gross, its sans-China $832 million cume is skewed 47% domestic. Ditto Captain Marvel, which $424 million domestic and $154 million in China toward its overall $1.128 billion cume. Remove China, and that's a 44/56 split. As always, China usually just boosts the already large-enough global totals of already successful films.
Guardians of the Galaxy Vol. 2 would have been fine with $389 million domestic and $762 million global without $101 million from China. Removing China makes it a 51/49 picture. Ditto Doctor Strange ($233 million domestic, $109 million in China and $677 million worldwide) or Captain America 2 ($259 million domestic, $115 million in China and $714 million worldwide). While still a hit, The Winter Soldier wouldn't have even bested Quantum of Solace ($585 million) or Mission: Impossible – Rogue Nation ($585 million) without that $115 million from China. China helped created a perception of MCU dominance despite only giving back around 25% of the ticket sale. The real key (at least theatrically) was, after The Avengers, top-tier domestic earnings and healthy "everywhere else" box office.
Offhand, had Eternals played in China and earned around $110 million (between Guardians 2 and Thor: Ragnarok), it might be looking at a $550 million cume and an unusually tilted 30/70 split. Throw in a 15% boost in a sans-Covid world, and the offbeat fantastical drama based on entirely unknown MCU characters would still earn around $615 million, or on par with Ant-Man and the Wasp. That film was also somewhat "saved" by overwhelming ($125 million in 2018, a record at the time for a solo superhero flick) Chinese box office. Nonetheless, $495 million worldwide would have been "okay I guess" without a penny from China. More importantly, these fun with math examples may indeed be the future of "new" MCU movies if China continues to mostly reject Disney's next batch of Marvel movies.
I'm not concerned about the upcoming sequels, with or without China. Marvel was always going to be challenged once they essentially ran out of even remotely familiar characters to adapt. It's one thing to try and make movie stars out of Hulk, Thor and Iron Man, especially in a world where each film wasn't yet expected at the time to shatter all relevant box office records. But now that even the comparative B-listers (Captain Marvel, Doctor Strange, Black Panther, etc.) are checked off the list. Save for lightning in a bottle moments like Black Panther ($700 million domestic and $1.346 billion global) and Guardians of the Galaxy ($333 million/$773 million), the $519 million global gross of Ant-Man may start to look like a best-case-scenario result.