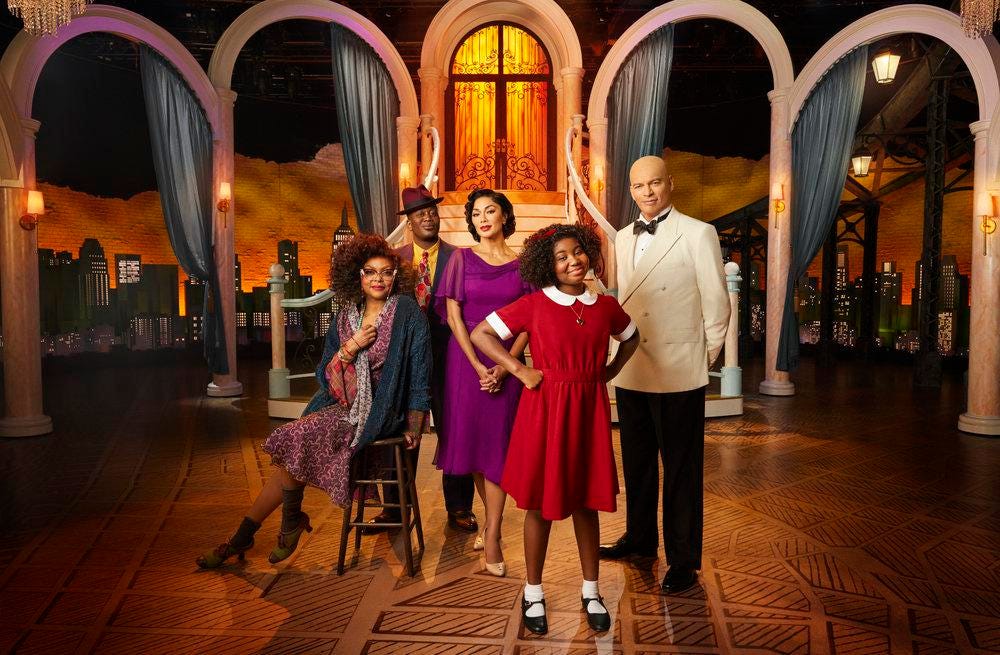 'Annie Live' Choreographer Discusses His Process In Bringing The Classic Musical To TV
Sergio Trujillo isn't nervous, even though a huge project he's working on is about to happen.
Trujillo is the choreographer for NBC's latest musical production, Annie Live, airs this week, but he insists that he and his team are ready, saying, "I'm cool, we're cool, it's all really coming together."
The recipient of the Tony award for Ain't Too Proud and the Olivier award for Memphis, his credits also include hits Jersey Boys and The Addams Family.
Annie is based upon the popular comic strip Little Orphan Annie. The original Broadway production opened in 1977 and ran for nearly six years. It's spawned numerous productions in many countries, as well as national tours, and won seven Tony Awards, including the award for Best musical. The musical is known for popular songs Tomorrow and It's a Hard Knock Life.
Starring in this version are Harry Connick, Jr. as Daddy Warbucks, Nicole Scherzinger as Grace Farrell, Taraji P. Henson as Miss Hannigan, and Celina Smith in the title role.
Explaining his process, Trujillo says, "I always approach something like this and ask, 'what is the vocabulary of this show?' And then I use that to interpret what I'm doing. With Annie Live, I want people to look at it and find the choreography refreshing and inspiring. So, I used all sorts of dance to come up with a language that feels appropriate for this piece."
Trujillo admits that the last time he saw a production of Annie was in 1982 and because of this he felt a little uneasy about interpreting the musical. "Yeah, it was a bit daunting in that I knew I had to give it my own take, but still be true to the original in terms of the music. What was cool was that every time I choreographed a number, the number got bigger and bigger and that just feels really great."
He explains that with dancing, "you really have to love it. You have to love it like it's your first love because you have to make so many sacrifices and compromises to pursue it, and it can be cruel because your body can only take you so far. This is why dancers understand each other in such a unique way. Really, dancing can bring such great joy, but dancers know that there's a really tumultuous relationship between them and dancing."
Capturing intricate choreography on camera, so as make sure the audience is privy to the most important moments, takes special collaboration between the choreographer and the director, says Trujillo, as he discusses his work with Alex Rudzinski, who serves as Live Television Director on the project. "We really work hand in hand, constantly discussing the best way to get the shot so as to really highlight what's happening in each number and to show how the dance is moving the story forward."
Talking about the actors that he's working with for Annie Live, Trujillo says, "The casting in this is incredible. I mean, we have Harry Connick, Jr. and you may know his music but he does so much more in this. And then there's Nicole Scherzinger. I know her from her work in the [singing group] The Pussycat Dolls, but little did I know that she's this incredible triple threat. I mean, she's just so good at all of it – dancing, singing, acting. When she's onscreen she just draws you in."
Saving his highest praise for his leading lady, Trujillo says that, "Celina is, well, it's hard to find the perfect words to describe how good she is. She's young so she has this fresh approach to everything, but she also has this awareness and maturity. She just stepped into everything with this wonderful level of confidence that you just don't often see in young performers. I cannot wait for the world to see her in this role."
Another aspect of the show that Trujillo is proud of is the diversity of the cast. "This is one of the big reasons I'm excited about this is. I wanted to make sure that our cast, the dancers, the singers, everyone involved was representative of America because I want people, especially young people to see themselves in this story and know that it's possible to shine no matter who you are or where you come from."
Overall, regarding his role in this, Trujillo wants the audience to really understand that choreography has the power to tell a story, that it's not just about, as he says, 'showing splashy, flashy moves.' "It's about taking the narrative and using dance to bring the story a new level."
He adds, "And I just think that this is such a great time of year for this. This is a beautiful story about hope. It has such an uplifting message and right now I really think everyone can use some hope in their lives."
'Annie Live' airs Thursday, December 2nd on NBC at 8pm ET with an encore on Monday, December 20th at 8pm ET