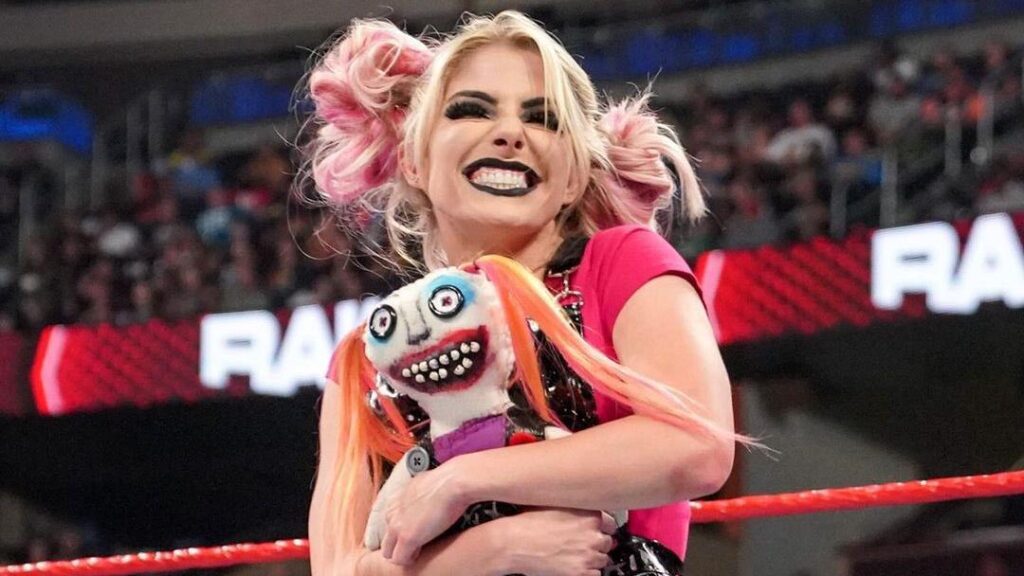 Alexa Bliss (And Lilly) Reportedly Sells More Merchandise Than Any Other Active WWE Star
Alexa Bliss' (kayfabe) descent into madness has translated to strong merchandise sales, polarizing as it may be.
In a recent report from US Bookies, Bliss' Lilly Doll was listed behind only Stone Cold Steve Austin as WWE's highest-selling merchandise. Austin's Legacy Championship Collector's title topped the list with estimated earnings of $1,359,984. Bliss' Lilly Doll came in second, with $863,712. In fact, total sales for Bliss' merchandise came in at over $1.6 million, trailing only Austin ($3.7 million) and John Cena ($2.6 million).
Yesterday, Bliss cryptically tweeted a GIF of her and the polarizing plush doll, possibly in reaction to the story.
Bliss has portrayed a darker, infantilized version of herself since aligning with Bray Wyatt in 2020. Shortly thereafter, the character came under fire from fans and critics during a bizarre storyline alongside Wyatt and Randy Orton.
"If you've enjoyed this ridiculous storyline more than I have, then you probably enjoyed this a lot more than I did," said Jason Powell of Prowrestling.net following a supernatural match between Orton and Bliss.
Last year, WWE rolled out Lilly dolls as merchandise during SummerSlam week. WWE officials reportedly kept a close eye on sales of Lilly dolls during SummerSlam week to determine if the character would be sustainable in the future. This was clearly the case as not only does the character persist to this day, but the plush dolls reportedly sold out.
"Lilly is available on @WWEShop !! Well… when she's back in stock. Keeps selling out… darn [winking emoji]," said Bliss in a tweet responding to criticism of her booking.
WWE's Highest-Selling Superstars (Per US Bookies)
Stone Cold Steve Austin | $3,657,224
John Cena | $2,649,836
Alexa Bliss | $1,645,945
nWo | $1,292,561
Roman Reigns | $1,164,253
The Rock | $992,114
Jimmy Uso | $885,930
Jey Uso | $862,130
Ultimate Warrior | $825,841
Eddie Guerrero | $704,436
Bliss' merchandise empire reveals multiple uncomfortable truths about the wrestling business for both WWE and the hardcore fans who monolithically detest Evil Alexa. For WWE, Bliss is one of a very small handful of active stars who is able to move merchandise. Of the highest-selling WWE Superstars, only Bliss, Reigns and The Usos are full-time performers. Reigns and The Usos are currently WWE's top stars on SmackDown as The Bloodline, so in essence, only two entities are among WWE's Top 10—Bliss and The Bloodline. The remaining 60% of the Top 10 is comprised of stars from past eras such as The Rock, John Cena, Steve Austin and The New World Order.
For hardcore fans, Bliss' success under a new character is an indictment of their taste in "professional wrestling," which takes itself so seriously it alienates casual fans. Modern-day pro wrestling attracting a strictly hardcore audience is a harsh reality that both CM Punk and Tony Khan recently admitted to.
The chart-topping merchandise sales of Alexa Bliss suggest the interests of hardcore fans do not align with that of WWE's paying customers. Though WWE's viewership has skewed older in recent years, the promotion's TV-PG product intends to market toward families. Drawing a younger audience is one of the chief goals of the Nick Khan administration.
Bliss' last live appearance teased a possible transformation back to her original persona. After Charlotte Flair beat Bliss to retain the Raw Women's Championship at WWE Extreme Rules, Flair tore up the Lilly Doll causing Bliss to launch into a tirade.
Bliss returned to television in a pre-taped therapy vignette. While the introduction of a therapist could point to an exorcism that brings Bliss back from the darkness, sales of Bliss' Lilly Doll could suggest otherwise.