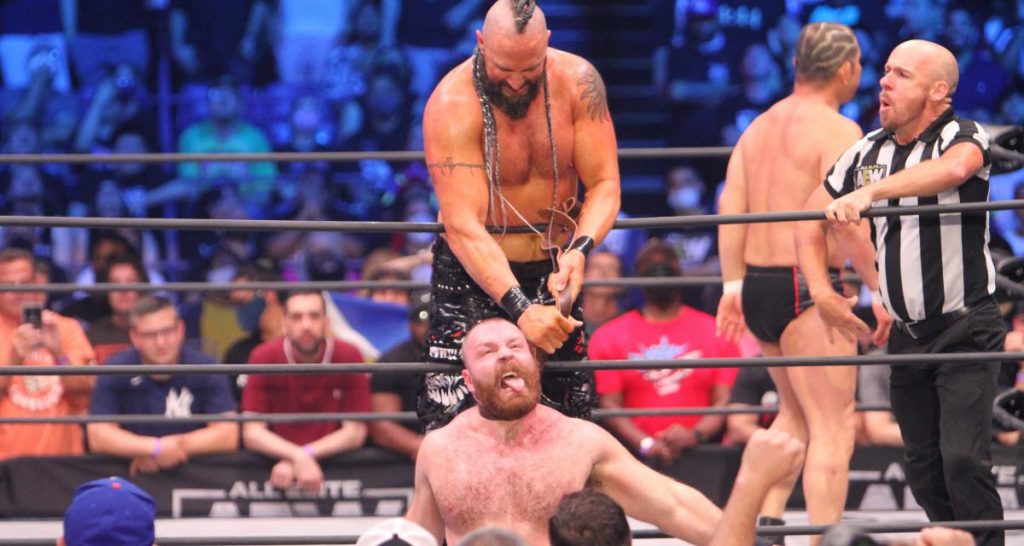 AEW Rampage Ratings: Rampage Freefall Continues On Grand Slam With 640,000 Viewers
AEW Rampage garnered 640,000 viewers for AEW Rampage Grand Slam Friday night as Rampage's viewership funk continued despite a special-edition showcase from Arthur Ashe Stadium in New York City. Rampage's number is down .31% from last week's 642,000 viewers. Though Friday marked the fifth consecutive week Rampage drew its lowest viewership in its brief history, Rampage was up 4% in the 18-49 demographic.
Both hours of Rampage placed in the Top 5 of the 18-49 demo, with Hour 1 drawing 727,000 viewers while Hour 2 fell to 552,000. Hour 1 topped the night in the Cable Top 15o while Hour 2 came in at No. 4.
AEW Rampage Ratings | September 24, 2021
AEW Rampage Total Viewership—640,000 Viewers
AEW Rampage Rating in 18-49 Demo—.29 Rating
Rampage's continued week-to-week decline comes on the heels of the news that the program will remain on TNT while AEW Dynamite is expected to move to TBS on January 5, 2022.
"'AEW: Dynamite' is delivering its best ratings since launching in October of 2019," read a press release from WarnerMedia about the forthcoming move.
"Its current performance has the show's strongest quarterly average ever in both total viewers and P18-49, up double-digits in audience vs. its performance a year ago. Most recently, "AEW: Dynamite" has been the #1 cable program on Wednesdays in P18-49 four weeks in a row."
WarnerMedia also touted Rampage viewership, noting "Since its August 13 debut, 'AEW: Rampage' has ranked as one of the top cable programs on Friday night." Unfortunately, Rampage viewership has fallen 43% since CM Punk's debut on August 20, 2021.
Rampage advertised CM Punk's in-ring return on television after seven years after the prized free-agent signing faced Powerhouse Hobbs in singles action. Punk is currently in a storyline feud with Team Taz that will see him battle members of the heel stable one-by-one. Punk's match kicked off AEW Rampage Grand Slam, and played a big part in its sizable first-hour viewership of 727,000. Rampage's main event featured a Lights Out unsanctioned match pitting Jon Moxley and Eddie Kingston against Lance Archer and Minoru Suzuki.
It'll be interesting to see where Rampage's viewership settles in. While it seems to have stabilized around the 640,000 mark, Friday's broadcast was a unique two-hour television special that may have actually kept viewership from falling even more given the promotion of CM Punk's first televised match in seven years. With Rampage firmly entrenched as AEW's B-Show, viewership future episodes of the Friday night showcase might come in closer to 600,000 as the show returns to smaller venues and lower profile matchups.