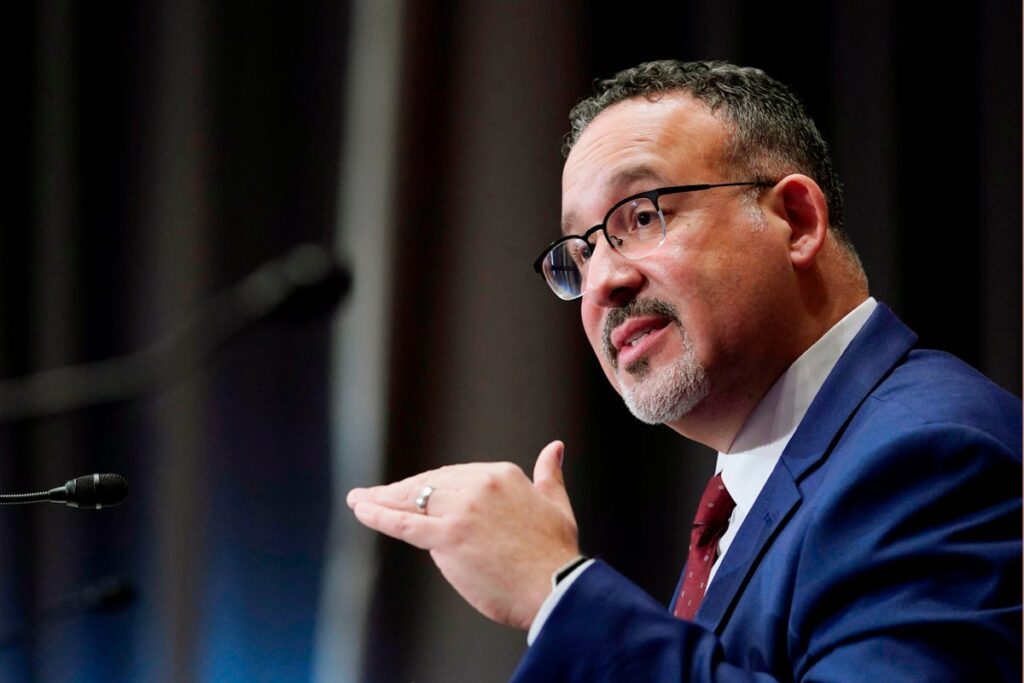 $2.4 Billion In Student Loan Forgiveness For 38,000 Borrowers Is In The Pipeline, Says Education Department
The Department of Education provided updated statistics on Friday for borrowers who have been approved for student loan forgiveness under a new expanded program the Biden administration announced in October.
"As of today, we've identified 38,000 borrowers who will receive $2.4b in loan forgiveness," said Education Secretary Miguel Cardona in a tweet on Friday, "with more on the way."
Student Loan Forgiveness Under The Limited PSLF Waiver
The billions in student loan relief are being provided to borrowers under the "Limited PSLF Waiver" — a temporary expansion of Public Service Loan Forgiveness (PSLF), a program created by Congress in 2007 for student loan borrowers who commit to working full-time for public or nonprofit organizations. Plagued by complex rules and poor oversight for years, PSLF has long suffered from high denial rates and broad criticism. The new waiver program, first announced by Education Department officials on October 6, relaxes key PSLF program requirements by temporarily allowing more categories of federal student loans and repayment plans to qualify.
The Department's latest statistics exceeded earlier projections of initial relief, and even more borrowers are expected to benefit from student loan forgiveness under the PSLF waiver program in the coming months. Borrowers with FFEL-program federal student loans and federal Perkins loans had been shut out of the PSLF program for years. But by consolidating their loans through the federal Direct consolidation program and submitting the required forms to certify their employment, these borrowers may be able to get past payments counted under the Limited PSLF Waiver, provided they act before October 31, 2022. The Department has established a website to provide borrowers with guidance.
Other Potential Changes To Public Service Loan Forgiveness May Be In The Works
The Biden administration enacted the Limited PSLF Waiver using emergency executive authority. As a result, the relief is only available for a limited time — until October 31, 2022. But the administration is also considering other, more permanent changes to the PSLF program.
Last week, the Department held a negotiated rulemaking session on a proposed overhaul of the regulations governing PSLF. The administration is proposing a number of improvements designed to streamline the program after the waiver expires, including automating employment certifications and cutting out bureaucratic red tape and application forms, and clarifying the definition of a "qualifying payment" to include payments that are split into multiple installments or paid early or ahead. The administration is also considering allowing some periods of deferment and forbearance to count, as well as payments made prior to consolidation. The Education Department is also hoping to create a formal appeal or reconsideration process for denied applications.
Advocates for student loan borrowers want the Department to go even further, however, such as by expanding the definition of qualifying employment to include certain contracting roles and public health positions, and allowing for progressive student loan forgiveness over the course of a borrower's repayment term (currently, borrowers must make at least 120 "qualifying payments" before getting any loan forgiveness).
The Department's negotiated rulemaking committee, which is comprised of key stakeholders and advises the Department on proposed regulatory changes, failed to reach a consensus last week on the proposed reforms. It will now be up to the Biden administration to decide how dramatically to reform PSLF after the Limited PSLF Waiver program expires next year. More details on additional PSLF reforms should be released sometime later in 2022.
Advocates Continue Campaign To Convince Biden To Extend Student Loan Payment Pause And Cancel Student Debt
The $2.4 billion in student loan cancellation announced by the Education Department today amounts to a small fraction of the estimated $1.8 trillion in outstanding student loan debt. Advocates for student loan borrowers, and their allies in Congress, continue to push the Biden administration to go much further by extending the national student loan payment pause (which is scheduled to end on January 31), stopping all interest accrual, or cancelling a fixed amount of federal student loan debt for every borrower.
"If the student loan payments pause isn't extended, borrowers will be slammed with hundreds of dollars a month in payments," said Sen. Elizabeth Warren (D-MA) in a tweet earlier this week. "[The President] can fix this and #CancelStudentDebt with the stroke of a pen. Waiting any longer will harm families and drag down our whole economy."
President Biden has expressed skepticism that he has the legal authority to cancel student debt unilaterally without Congress, but Senator Warren and other borrower advocates have argued that the Higher Education Act provides him with such authority. So far, administration officials have signaled that they are moving forward with the resumption of repayment.
Further Student Loan Reading
Student Loan Forgiveness: Education Department Clarifies Rules For Expanded New Program
Will Biden Extend The Student Loan Pause Again Because Of Omicron? Some Advocates And Lawmakers Say He Should.
Big Changes Coming To Student Loan Repayment In 2022
Details On New Student Loan Income-Based Payment Plan: Some New Benefits, But Advocates Are Disappointed